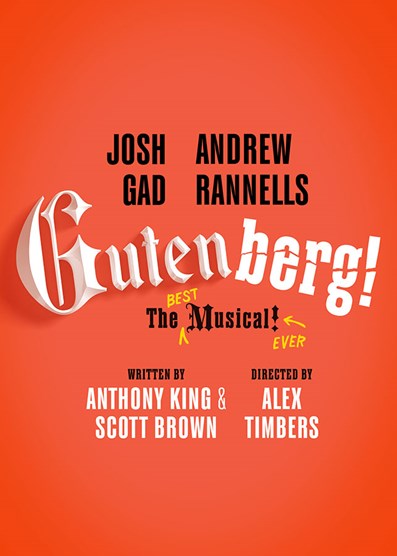 TONY AWARD® NOMINEES
JOSH GAD AND ANDREW RANNELLS
REUNITE FOR THE BROADWAY PREMIERE OF
GUTENBERG! THE MUSICAL!


WRITTEN BY
TONY & EMMY AWARD® NOMINEES
SCOTT BROWN & ANTHONY KING
DIRECTED BY
TONY AWARD WINNER
ALEX TIMBERS
New York, NY (June 22, 2023) – Today, producers announced Tony Award® nominees Josh Gad and Andrew Rannells, two of the most gifted comedic actors of their generation, will reunite on Broadway for the first time in over a decade for Gutenberg! The Musical!, written by Tony and Emmy Award® nominees Scott Brown and Anthony King, and directed by Tony Award winner Alex Timbers, who directed the lauded 2006 Off-Broadway production of the musical.
Gutenberg! The Musical! will play Broadway's James Earl Jones Theatre (138 West 48th Street) with previews beginning Friday, September 15 ahead of a Thursday, October 12 opening night. This strictly limited 20-week engagement will play through Sunday, January 28, 2024 only.
Josh Gad said, "It's been 12 years since I've been on a Broadway stage. And after 12 years, the only person who would agree to take the stage with me again was my co-star from 12 years ago. I am grateful that Andrew Rannells said yes, because I really didn't have the energy to do a one-man show. Together, he and I have joined an all-star team that includes the director of Moulin Rouge, the producer of the Star Trek films, and a rag tag collection of other Mad Lib credentials that should excite, invigorate, and slightly confuse eager audiences. But one thing will be clear… not since the invention of the printing press has the name 'Gutenberg' held such promise. And as a team, we intend to honor the man who is directly responsible for the mass production of our show's Playbills."
Andrew Rannells said, "After years of relentless stalking and countless restraining orders, Josh Gad has finally gotten me to agree to share the stage with him again. I decided it was best to just give in and honestly, it feels right to be reunited with my onstage missionary companion. Also, it was clear he would not leave me alone until I said yes." 
Alex Timbers said, "Josh and Andrew are two of the funniest and most inventive musical theater stars working today. We've been discussing collaborating for several years and the chance to do it on Gutenberg! is a true thrill, as it's a one-of-a-kind showcase for their virtuosity, wild irreverence, and cheeky wit. I can't wait for Broadway to see these two dynamos frantically switch between dozens and dozens of comic roles in this breathtaking tour de force written by my hilarious Beetlejuice collaborators Scott Brown and Anthony King."
Scott Brown and Anthony King said, "We always said there's no way we'd do our show about two dreamers hoping to go to Broadway ON Broadway unless Josh Gad, Andrew Rannells, and Alex Timbers did it with us. And dammit, they called our bluff. And we couldn't be more thrilled. That our warped little valentine to musical theater will have the chance to reach a Broadway audience – it means the world to us."
Gad and Rannells first rocketed to national attention as the original Elder Cunningham and Elder Price in Broadway's The Book of Mormon, a pairing that drew comparisons to some of the great comedy stage duos. They have since become household names with Gad starring in the live-action remake of Beauty and the Beast, Kenneth Branagh's film adaptation of Murder on the Orient Express, Hulu's horror-comedy series "Little Monsters," and as the voice of Olaf in Disney's Frozen and Frozen 2. He currently is in production for the second season of Peacock's "Wolf Like Me" and most recently starred in "Avenue 5" and "Central Park" which he co-created.
Rannells has starred in HBO's acclaimed series "Girls," Showtime's "Black Monday," and voiced Matthew in Netflix's adult animated series "Big Mouth." He has returned to Broadway in Hedwig and the Angry Inch, Falsettos for which he received his second Tony Award nomination, and most recently, as part of the all-star cast of the Tony Award-winning revival of The Boys in the Band.
Broadway runs on three things: big dreams, minuscule odds, and lots and lots of unearned confidence. Oh, and star power! Josh Gad and Andrew Rannells, the most acclaimed musical comedy duo of their generation, finally reunite after more than ten years in Gutenberg! The Musical!, a full-throated celebration of the ancient, universal, and incredibly foolish urge to put on a show. 
Gutenberg! The Musical! was originally developed at New York's Upright Citizen's Brigade Theatre and was also a part of the New York Musical Theatre Festival in 2005 and 2006 before having an off-Broadway run in 2006 where it received Drama Desk, Outer Critics Circle, and Lortel Award nominations. In addition to New York, productions of Gutenberg! have been seen across the North America, as well as UK, Australia, France, Spain, and Korea.
The design team for Gutenberg! features Tony Award winner Scott Pask (scenic design), Tony Award nominee Emily Rebholz (costume design), Tony Award winner Jeff Croiter (lighting design), Cody Spencer & M.L. Dogg (sound design), C12 Casting (casting director), and Rachel Sterner (production stage manager).

Gutenberg! The Musical! is produced on Broadway by Ambassador Theatre Group Productions, Patrick Catullo, Bad Robot Live, Seth A. Goldstein, Isaac Robert Hurwitz, Kristin Caskey and Mike Isaacson.
Additional news about Gutenberg! The Musical! will be announced in the coming weeks.

BIOGRAPHIES
Josh Gad is an American actor, singer, and comedian. He is known for voicing Olaf in the Frozen franchise, playing Elder Arnold Cunningham in the Broadway musical The Book of Mormon, and LeFou in the live-action adaptation of Disney's Beauty and the Beast.
For his role as Olaf, Gad won two Annie Awards, and for his work in The Book of Mormon, he received a Grammy Award and a Tony Award nomination for Best Actor in a Musical. In film, Gad has starred in hit films such Murder on the Orient Express, The Wedding Ringer, and the critically acclaimed Marshall.
In television, Gad played a fictionalized version of himself on FX's "The Comedians" opposite Billy Crystal and currently stars in both Armando Iannuci's HBO series "Avenue 5" and Apple's hit animated series "Central Park" which he co-created with "Bob's Burgers" Creator Loren Bouchard. "Central Park" has been nominated for a 2021 and 2023 NAACP Image Award in the category of Outstanding Animated Series, a 2022 Hollywood Critics Association Television Award in the category of Best Streaming Animated Series or TV Movie and a 2021 Critics Choice Super Award in the category of Best Animated Series. The show has also won two 2021 Kidscreen Award in the categories Best Animated Series – Tweens/Teens and Best in Class: Tweens/Teens and a 2020 AAFCA TV Honors in the category of Best Animated.
Gad also stars in the Peacock series "Wolf Like Me" opposite Isla Fisher. The series recently wrapped production on its second season.
During the COVID-19 pandemic, where people were encouraged to practice social distancing, Gad launched the YouTube series "Reunited Apart," which reunites – via video conferencing –the casts of several popular movies and movie series including Back to The Future and Lord of the Rings. The series encourages its viewers to support non-profit charities such as Dig Deep, Project Hope, and No Kid Hungry.
Andrew Rannells is a Grammy Award-winning and two-time Tony Award nominated actor who was most recently see in the Hulu limited series "Welcome to Chippendales."  Additionally, he has starred in Netflix's The Prom, The Boys in the Band, as well as Showtime's, "Black Monday" and HBO's "Girls" which both earned him Critics Choice Award nominations for Best Supporting Actor in a Comedy Series. Broadway credits include: The Boys in the Band, Hairspray, Jersey Boys, The Book of Mormon, Hedwig and the Angry Inch, Hamilton, and Falsettos. He has been seen in films such as A Simple Favor, Why Him?, and The Intern, and his voice credits include "The Simpsons," "Big Mouth," and "Invincible." His memoir, Too Much Is Not Enough: A Memoir of Fumbling Toward Adulthood, was published in 2019, and his second literary project, Uncle of the Year: & Other Debatable Triumphs, was released on May 16, 2023.

Scott Brown (Book, Music, Lyrics) has made theatre-ish things with Anthony King since their days at Riverside High in Durham, N.C. Off-Broadway, their Gutenberg! The Musical! (dir. Alex Timbers) scored 2007 Drama Desk, Lortel, and Outer Critics Circle nominations. On Broadway, they were Tony-nominated for Beetlejuice. Scott also writes TV (HBO's Emmy-nominated "Sharp Objects" and Hulu's WGA Award-winning "Castle Rock," among other credits) and novels (xL, Knopf). He won the George Jean Nathan Award for his theatre criticism at New York Magazine and spent many happy years at Entertainment Weekly. Infinite love to Robbie, Roger, Holland, and Robert, who made everything possible, and to Katie, Zoanna, and Lily, who make everything worth it.
Anthony King (Book, Music, Lyrics) is a Tony and Emmy-nominated writer, producer, and performer. With Scott Brown, he co-wrote Beetlejuice The Musical for Broadway (Tony nominee - Best Book of a Musical) and also Gutenberg! The Musical!, which enjoyed runs Off-Broadway and Off-West End in London before coming to Broadway this year. For television, Anthony is the co-creator and executive producer of "Robbie" (Paramount+) and has written/produced for shows like "The After Party" (Apple), "Silicon Valley" (HBO), "Dead To Me" (Netflix), "Search Party" (TBS/HBO Max), "Broad City" (Comedy Central), "Wet Hot American Summer: First Day of Camp" & "Ten Years Later" (Netflix), "Woke" (Hulu), "Wrecked" (TBS), "Playing House" (USA), and more. He lives in Burbank with his wife and daughters. Also – he hates cotton balls.
Alex Timbers (Director) is the recipient of Tony, Golden Globe, Drama Desk, Outer Critics Circle, and London Evening Standard Awards, as well as two Obie and Lortel Awards. Broadway credits include Here Lies Love; Moulin Rouge!; Beetlejuice; David Byrne's American Utopia; Oh Hello with Nick Kroll and John Mulaney; The Pee-wee Herman Show; Disney's Peter and the Starcatcher; and Bloody Bloody Andrew Jackson (also bookwriter). For Amazon: "Mozart in the Jungle" (co-creator, Golden Globe winner – Best Comedy). For Netflix: "John Mulaney: Kid Gorgeous at Radio City" (Director, EP), "Ben Platt: Live at Radio City" (Director, EP), "John Mulaney: Baby J" (Director, EP). His debut picture book, Broadway Bird, set in an all-animal version of Broadway, is published by Feiwel and Friends, an imprint of Macmillan. @alextimbers.