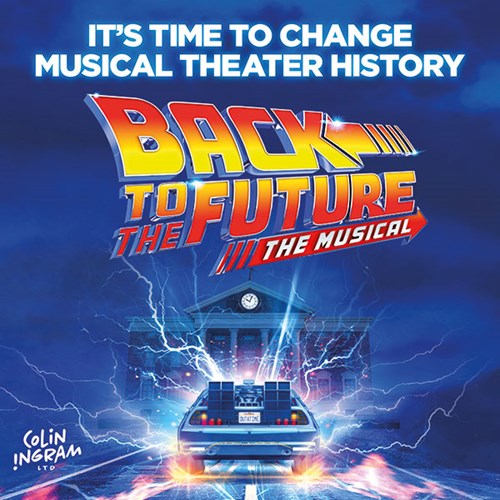 GREAT SCOTT! THE 2022 OLIVIER AWARD-WINNING BEST NEW MUSICAL
BACK TO THE FUTURE

WILL OPEN AT BROADWAY'S WINTER GARDEN THEATRE
STARRING TONY AWARD WINNER ROGER BART AS "DOC BROWN"
AND OLIVIER AWARD NOMINEE HUGH COLES AS "GEORGE McFLY"
Performances Begin Friday, June 30, 2023
Officially Opens Thursday, August 3, 2023
(New York, NY) Where we're going, we don't need roads! Lead producer Colin Ingram together with Robert Zemeckis and Bob Gale, the creators of the Back to the Future film trilogy, are thrilled to celebrate "Back to the Future Day" by announcing the Broadway premiere of the 2022 Olivier Award-winning Best New Musical, BACK TO THE FUTURE: The Musical.
Starring Tony Award winner Roger Bart as "Doc Brown" and Olivier Award nominee and WhatsOnStage Award winner Hugh Coles as "George McFly," reprising their acclaimed performances from the original West End production, BACK TO THE FUTURE: The Musical begins performances Friday, June 30, 2023 and officially opens Thursday, August 3, 2023 at Broadway's Winter Garden Theatre (1634 Broadway).
Based on the Universal Pictures/Amblin Entertainment film, BACK TO THE FUTURE: The Musical has a book by Bob Gale, new music and lyrics by Emmy and Grammy Award-winning Alan Silvestri and six-time Grammy Award-winning Glen Ballard, with additional songs from the film including "The Power of Love" and "Johnny B. Goode." Bob Gale is the co-creator and co-writer of the Back to the Future film trilogy and Alan Silvestri composed the iconic film score for the series.
BACK TO THE FUTURE: The Musical is directed by Tony Award winner John Rando and features a multi-Tony and Olivier Award-winning design team that includes Tim Hatley (set and costume design), Tim Lutkin and Hugh Vanstone (lighting), Gareth Owen (sound) and Finn Ross (video), with choreography by Chris Bailey, musical supervision and arrangements by Nick Finlow, illusions by Chris Fisher, orchestrations by Ethan Popp and Bryan Crook, dance arrangements by David Chase, music direction by Ted Arthur and casting by Tara Rubin. Hugh Coles is appearing with the support of Actors' Equity Association. The Producers gratefully acknowledge Actors' Equity Association for its assistance with this production.
Marty McFly is a rock 'n' roll teenager who is accidentally transported back to 1955 in a time-travelling DeLorean invented by his friend, Dr. Emmett Brown. But before he can return to 1985, Marty must make sure his high school-aged parents fall in love in order to save his own existence.
Bob Gale said, "To paraphrase Marty McFly, you guys are ready for this, and your kids are gonna love it (too)! If Bob Zemeckis and I time traveled back to 1980 and told our younger selves that the script they were struggling to write would become a Broadway musical 43 years later, they'd kick us out of their office and call us crazy.  Well, sometimes, crazy ideas give birth to great entertainment, and now Bob and I are eager to share our musical vision with New York audiences.  The London production exceeded our original expectations on every level, and we're certain the Broadway version, anchored by the brilliantly talented Roger Bart and Hugh Coles, along with the fantastic songs by Alan Silvestri and Glen Ballard, will be even better.  Regardless of whether you've seen the original film, Back to the Future: The Musical, with its outstanding performances and incredible stagecraft, will delight and enthrall you, your kids, your parents, and everyone you know!"
Alan Silvestri and Glen Ballard said, "It all began for us with the story and characters that made Back To The Future a much beloved, cinematic classic. The magic of musical theatre presented us with the possibility of adding new dimension and depth to our familiar Hill Valley residents. Through song and dance their innermost thoughts, hopes, and dreams are now revealed. It's a story first told in 1985, that traveled back to 1955, and will now be told in 2023 in New York City. We are thrilled and excited to invite you to join us on this epic journey through time. 'Where we're going' . . . is Broadway!!"
Lead Producer Colin Ingram said, "After playing for two years in London and winning the Laurence Olivier Award for Best New Musical, we are thrilled to be bringing BACK TO THE FUTURE: The Musical to Broadway where we see it as its natural home.  Marty, Doc and everyone in Hill Valley will be living on Broadway and 50th Street for hopefully many years to come and we look forward to entertaining and thrilling audiences with this moving and spectacular musical version of the much beloved film. I'm delighted to be bringing Tony Award winner Roger Bart back to Broadway and introduce Olivier Award nominee Hugh Coles as George McFly who have enthralled audiences in London."
Additional casting will be announced shortly.
The critically acclaimed West End production of BACK TO THE FUTURE: The Musical has been seen by more than half a million people to date, broken Adelphi Theatre box office records and recently extended to July 23, 2023. The production has gone on to win the Best New Musical Olivier Award as well as multiple WhatsOnStage Awards and a Broadway World Award for Best New Musical. BACK TO THE FUTURE: The Musical had its world premiere at the Manchester Opera House on March 11, 2020 and officially opened in London on September 13, 2021. 
The Original Cast Recording of BACK TO THE FUTURE: The Musical is available now from Sony Masterworks Broadway in all formats, including vinyl.

Back to the Future the movie was released in 1985, starring Michael J. Fox as "Marty McFly" and Christopher Lloyd as "Dr Emmett Brown." The film grossed $360.6 million at the box office worldwide and the total box office for all three films in the Back to the Future franchise was $936.6 million (over $1.8 billion in today's money).
BACK TO THE FUTURE: The Musical is produced by Colin Ingram, Donovan Mannato, Tom Viertel/ Steven Baruch/ Marc Routh/ Richard Frankel, Hunter Arnold, Gavin Kalin, Playing Field, Robert L. Hutt, Ivy Herman/Hallee Adelman, Teresa Tsai, Bob McLynn, Kimberly Magarro, Crush Music, Universal Theatrical Group, Sony Masterworks, Augury, Robert Zemeckis, Bob Gale, in association with Neil Gooding Productions, Ricardo Marques, James L. Nederlander.

BIOGRAPHIES
COLIN INGRAM (Lead Producer). Olivier Award-winning producer Colin Ingram has worked in the theatre industry for 27 years with some of the world's leading producers, directors, designers and writers. He currently produces Back To The Future – The Musical and Grease on the West End and has just premiered Time Traveller's Wife – The Musical in Chester prior to a West End transfer. Back To The Future won Best New Musical at the Olivier Awards (after 7 nominations), What's On Stage Award and Broadwayworld.com and the London Lifestyle Award for Best Theatre Show. Colin produced Ghost the Musical which has been staged in 22 countries in 14 languages in over 30 productions including West End and Broadway. It was nominated for five Olivier Awards and three Tony Awards® and won Best Musical at the Manchester Theatre Awards. He was Executive Producer of the multi Tony and Olivier-Award winning Billy Elliot the Musical in the West End and consulted on the Broadway and Australian productions. He also lead-produced Breakfast at Tiffany's on Broadway and twice in the West End, and on the UK tour starring Emilia Clarke ("Game of Thrones"), Anna Friel and Pixie Lott. It won a Broadway.com award for Best Play. Prior to becoming an independent producer, Colin worked for Cameron Mackintosh for six years, general-managing Les Misérables, The Phantom of the Opera, Oklahoma! (starring Hugh Jackman), The Witches of Eastwick and the Les Misérables 10th anniversary concert at the Royal Albert Hall. He then joined Disney Theatrical Productions to be UK Managing Director overseeing the London office and the productions of The Lion King, Beauty and the Beast and other shows in development. Colin then joined the Old Vic as Executive Producer and produced Hamlet starring Ben Whishaw, Aladdin starring Ian McKellen, and Richard II, The Philadelphia Story and National Anthems. He then produced the Billy Joel/Twyla Tharp musical Movin' Out in the West End, and co-produced Gone With the Wind directed by Trevor Nunn. In 2016, Colin joined Madison Square Gardens Entertainmentas Executive Vice President of Productions. At Radio City, he produced the New York Spectacular starring the Radio City Rockettes – a major undertaking involving over 350 cast, crew and musicians – and produced the 2016 Christmas Spectacular starring the Radio City Rockettes, achieving the highest revenue in its 85-year history. coliningramltd.com.
BOB GALE (Book, Co-Creator, Producer) is an Oscar-nominated Screenwriter-Producer-Director, best known as co-creator, co-writer and co-producer of Back to the Future and its sequels. Gale was born and raised in St. Louis, Missouri, and graduated Phi Beta Kappa with a B.A. in Cinema from the University of Southern California in 1973, where he met and began his association with his longtime collaborator, Robert Zemeckis. Gale has written or co-written over 30 screenplays and his other film credits include 1941, I Wanna Hold Your Hand, Used Cars, Trespass and Interstate 60, the latter which he directed.  In addition to his film and television work, and being the "Gatekeeper" for the BTTF Franchise, Gale has written comic books including Spider-Man, Batman, Daredevil and IDW's Back to the Future series, thus proving to his father that he did not waste hours and hours reading comics in his youth. He has given talks on screenwriting in colleges across the USA, and enjoys meeting fans at Comic Conventions and Back to the Future events. He has also served as an Expert Witness in over 25 plagiarism lawsuits, even though this has occasionally required him to wear a suit and tie. When he's not in production, writing, or wasting time on the internet, he actually does take out the trash, even when his wife doesn't ask (well, sometimes he does). Gale lives in California with his wife and dog. Back to the Future the Musical is his first foray into writing for the stage.
ROBERT ZEMECKIS (Co-Creator, Producer) won an Academy Award©, a Golden Globe and a Director's Guild of American Award for Best Director for the hugely successful and popular Forrest Gump. The film's numerous honors also included a Best Picture Oscar and for Tom Hanks, a Best Actor Oscar. Early in his career, he co-wrote with Bob Gale and directed Back to the Future, which was the top-grossing release of 1985, and for which Zemeckis shared Oscar and Golden Globe nominations for Best Original Screenplay. He then went on to helm Back to the Future, Part II and Part III, completing one of the most successful film franchises in Motion Picture history. Zemeckis has continued to bring an impressive number of popular films to the screen including the comedies Used Cars and I Wanna Hold Your Hand, the romantic adventure Romancing The Stone starring Michael Douglas and Kathleen Turner and the macabre comedy hit Death Becomes Her starring Meryl Streep, Goldie Hawn and Bruce Willis. He also directed Who Framed Roger Rabbit, cleverly blending live action and animation in a feature film, resulting in a worldwide box office smash. Zemeckis re-teamed with Hanks directing and producing the contemporary drama Cast Away which opened to critical and audience acclaim. He directed and produced Contact, starring Jodie Foster, based on the best-selling novel by Carl Sagan. He also co-wrote and directed the motion capture film The Polar Express, starring Tom Hanks as a charming train conductor taking children on a magical adventure to the North Pole. Zemeckis produced and directed his second motion capture film, Beowulf which starred Anthony Hopkins and Angelina Jolie, based on one of the oldest surviving pieces of  Anglo-Saxon literature, written before the 10th Century A.D. He released another advanced motion-capture film: A Christmas Carol, based on the celebrated and beloved classic story by Charles Dickens which he both wrote and directed for The Disney Studios. Zemeckis returned to live action direction with the critically-acclaimed dramatic feature film Flight, for Paramount Pictures starring Denzel Washington. Under the direction of Zemeckis, Washington received an Academy Award nomination for the role. For The Walk, he directed Joseph Gordon-Levitt and Ben Kingsley in the story of French high-wire artist Philippe Petit's 1974 attempt to cross the Twin Towers of the World Trade Center. He then directed the romantic thriller Allied starring Brad Pitt and Marion  Cotillard, telling the compelling story of the relationship between a Canadian Intelligence Officer and a French Resistance Fighter against the backdrop of WWII in North Africa in 1942. Along with Caroline Thompson Zemeckis wrote the screenplay for Welcome to Marwen, which he directed for Universal Pictures. The film starred Steve Carell as artist Mark Hogancamp who created a miniature WWII-era village as a way to recover from a violent assault.  He then directed The Witches for Warner Bros. Studios. Zemeckis produced such films as The Frighteners, Monster House, Last Holiday, and as a producer brought the true life story of The Prize Winner of Defiance, Ohio starring Julianne Moore and Woody Harrelson to the big screen.  Along with Bob Gale, Zemeckis co-wrote  Trespass. He and Gale previously wrote 1941, which began a long-time association with Steven Spielberg. For his present directorial effort, Zemeckis has completed Pinocchio which he co-wrote for the Disney Studios. The film is currently on Disney+. In 1998 Zemeckis, Steve Starkey and Jack Rapke partnered to form the ImageMovers, a production company dedicated to telling character-driven stories across many genres for film and television incorporating into their both cutting-edge and innovative digital technology. For the small screen, his television directing credits include episodes of Spielberg's Amazing Stores and HBO's Tales From the Crypt. He serves as Executive Producer on Medal of Honor, for Netflix and also Executive Produces on Blue Book for the History Channel and Executive Produces on Manifest for NBC and Warner Bros. Studios. In March 2001, the USC School of Cinema-Television celebrated the opening of the Robert Zemeckis Center for Digital Arts.  This state-of-the-art center is the country's first and only fully digital training center and houses the latest in non-linear production and post-production equipment as well as stages, a 50-seat screening room and USC student-run television station, Trojan Vision.

ALAN SILVESTRI (Music & Lyrics). In his ongoing, decades-long career as a composer, Alan Silvestri has blazed an innovative trail with his exciting and melodic scores, winning the applause of Hollywood and movie audiences the world over. With a credit list of over 100 films, Silvestri has composed some of the most recognisable and beloved themes in movie history. His efforts have been recognised with two Oscar® nominations, two Golden Globe nominations, two Emmy® awards, eight Grammy award nominations leading to three Grammy® awards and numerous International Film Music Critics Awards, Saturn Awards, and Hollywood Music In Media Awards. Born in New York City and raised in Teaneck, New Jersey, Silvestri first dreamed of becoming a jazz guitar player. After attending the Berklee School of Music in Boston, he hit the road as a performer and arranger. Landing in Hollywood at the age of 22, he found himself successfully composing the music for 1972's The Doberman Gang which established his place in the world of film composing. The 1970s witnessed the rise of energetic synth-pop scores, establishing Silvestri as the action rhythmatist for TV's highway patrol hit "CHiPs." This action-driven score caught the ear of a young filmmaker named Robert Zemeckis, whose 1984 hit film, Romancing the Stone, was the perfect first date for the composer and director. Its success became the basis of a decades- long relationship that continues to this day. Their numerous collaborations have taken them through fascinating landscapes and stylistic variations, from the Back to the Future trilogy to Toontown in Who Framed Roger Rabbit?, the tension of What Lies Beneath and Death Becomes Her, to the cosmic wonder of Contact; the emotional isolation of Castaway, to the magic of The Polar Express, to Zemeckis' 1994 Best Picture winner, Forrest Gump, for which Silvestri's gift for melodically beautiful themes earned him an Oscar and Golden Globe nomination. This 39-year, 22-film collaboration includes such recent films as Flight, Allied, The Witches and Walt Disney's Pinocchio starring Tom Hanks. Zemeckis and Silvestri are currently working on Here starring Tom Hanks and Robin Wright which is scheduled for release in 2023. Though the Zemeckis/Silvestri collaboration is legendary, Silvestri has scored films of every imaginable style and genre. His energy has brought excitement and emotion to the hard-hitting orchestral scores for Steven Spielberg's Ready Player One, James Cameron's The Abyss as well as Predator 1 and 2 and The Mummy Returns. Alan's diversity is on full display in family entertainment films such as The Father of the Bride 1 and 2, The Parent Trap, Stuart Little 1 and 2, Disney's Lilo and Stitch, The Croods as well as Night at the Museum 1, 2 and 3 while his passion for melody fuels the romantic emotion of films like The Bodyguard and What Women Want. In 2018-19 Alan composed the music for Marvel's Avengers: Infinity War and Avengers: Endgame. These films are the culmination of a partnership with Marvel that began in 2011 with his dynamically heroic score for Captain America: The First Avenger followed by The Avengers in 2012. Alan's collaboration with Marvel helped propel The Avengers: Infinity Saga to spectacular worldwide success. Silvestri's success has also crossed into the world of songwriting for film and stage. His partnership with six-time Grammy Award-winner Glen Ballard has produced movie hits such as the Grammy-winning and Oscar- nominated song 'Believe' (Josh Groban) for The Polar Express, 'Butterfly Fly Away' (Miley Cyrus) for Hannah Montana The Movie, 'God Bless Us Everyone' (Andrea Bocelli) for A Christmas Carol and 'A Hero Comes Home' (Idina Menzel) for Beowulf. Silvestri and Ballard's newest venture is the phenomenally successful Back to the Future: The Musical. Silvestri and Ballard cowrote the songs and Silvestri adapted his iconic score for the stage. This collaboration proved to be irresistible to audiences and critics alike as Back to the Future: The Musical was honored with the prestigious Olivier Award for Best New Musical of 2022

GLEN BALLARD (Music & Lyrics). Six-time Grammy Award winner Glen Ballard is one of popular music's most accomplished producers and songwriters, whose records have sold more than one hundred and fifty million copies worldwide. Through his Los Angeles-based production company, Augury, Ballard is developing a diverse slate of projects in which music plays a central role. His most recent project is the Netflix Original series "The Eddy": a music-driven multicultural drama about a jazz band trying to survive in chaotic modern-day Paris which debuted in May 2020. Ballard wrote and composed original songs and music for the limited series and served as an executive producer alongside Oscar-winning director Damien Chazelle, BAFTA and Tony award winning writer Jack Thorne, and Emmy winning producer/director Alan Poul. Ballard wrote original lyrics and music for GHOST the Musical which debuted in 2011 and has since been touring worldwide. Ballard's international production company, Augury is a producer of the stage adaptation of 1985's Back to the Future having worked on the project's development for more than 14 years. In collaboration with Grammy Award-winning and Oscar-nominated film composer Alan Silvestri, Ballard created original music and lyrics for the production which includes 17 new original songs and is directed by John Rando. Ballard is also writing songs for the stage version of the 1979 movie The Rose, to be produced by Gail Berman (The Jackal Group) and Michael Gorfaine and Sam Schwartz in association with Augury. Ballard produced and co-wrote Alanis Morissette's "Jagged Little Pill" (33 million worldwide, four Grammys, and named Best Album of the Decade by Billboard Magazine), and in 2019 a musical called Jagged Little Pill featuring all the songs from the album debuted on Broadway. Directed by Diane Paulus with a book by Diablo Cody, Jagged Little Pill the Musical was nominated for 15 Tony Awards in 2020. Ballard has written and produced songs for Quincy Jones, Aretha Franklin, Barbra Streisand, Dave Matthews, Shakira, Katy Perry, Idina Menzel, George Benson, Ringo Starr, George Strait, Wilson Phillips, Van Halen, Chaka Khan, Patti Austin, Al Jarreau, Andrea Bocelli and many others. His production credits include producing and arranging records for Annie Lennox, No Doubt and POD. Ballard co-wrote and arranged "Man in the Mirror" for Michael Jackson and co-wrote and produced the Grammy-winning and Oscar-nominated song "Believe" (Josh Groban) for the feature film The Polar Express. His work in film includes writing original songs for Charlotte's Web, Beowulf, A Christmas Carol, The Croods, The Mummy's Return, Valentine's Day and Disney's live-action retelling of Pinocchio which premiered on Disney+ on September 8, 2022.

JOHN RANDO (Director) won the Best Director Tony Award and Outer Critics Circle Award for Urinetown. His hit production of Back to the Future is currently on London's West End. Other Broadway credits include Mr. Saturday Night, On the Town (Tony nomination), A Christmas Story, The Wedding Singer, Penn & Teller, A Thousand Clowns, and Neil Simon's The Dinner Party. For City Center Encores! he directed The New Yorkers, High Button Shoes, It's a Bird… It's a Plane…It's Superman, Annie Get Your Gun, Gentlemen Prefer Blondes, Damn Yankees, Face the Music, Of Thee I Sing, The Pajama Game, Do Re Mi and Strike Up the Band. At the New York Philharmonic, Carousel. Off-Broadway credits include Jerry Springer the Opera, David Ives' The Heir Apparent (SDCF Callaway Award) and All in the Timing (Obie Award). John's work can be seen in China in two original musicals: Jay Chou's The Secret and Spirit of Life – The Jonathan Lee Musical.
TIM HATLEY (Set and Costume Design). Double nominations at the 2022 Olivier Awards - Best Set Design for Back to the Future and Life of Pi. (Winner) Tim has designed extensively for The National Theatre, West End and Broadway, and is the winner of 2 Tony Awards, 3 Olivier Awards, & 4 Drama Desk Awards, including the 2022 Olivier Award for Best Set Design for Life of Pi. Recent theatre credits include: Life of Pi (West End); Back to the Future (West End & UK Tour); Dreamgirls (West End & UK Tour); Travesties (Menier/West End/ Broadway); Ghosts (Almeida Theatre/West End/Brooklyn Academy of Music); Little Eyolf (Almeida Theatre); Temple (Donmar Warehouse); Enemy of the People, Pajama Game (Chichester Festival Theatre); The Slaves of Solitude & Drawing The Line (Hampstead Theatre); Mr. Foote's Other Leg (Hampstead Theatre/West End), The Bodyguard (West End/International Tours); Shrek (West End/ Broadway/UK Tour/US Tour); Spamalot (West End/Broadway/US Tour/Las Vegas); Singin' in the Rain, My Fair Lady (Chatelet Paris) and Carmen & Don Quixote (The Royal Ballet). Film credits include Production Design for: Closer, Notes on a Scandal and Stage Beauty.
CHRIS BAILEY (Choreography) is a choreographer and director whose recent credits include Back To The Future (London, West End), Gettin' The Band Back Together (Broadway), Jerry Springer The Opera (The New Group, Chita Rivera Award Nominee), The New Yorkers (NY City Center Encores!), 1776 (NY City Center Encores!), The Entertainer with Kenneth Branagh (West End), Assassins (Menier Chocolate Factory), Cyrano De Bergerac (Broadway), A Little Night Music (Stratford), and Because Of Winn Dixie (Goodspeed). Chris choreographed the historic opening number 'Bigger' with Neil Patrick Harris of the 2013 Tony Awards (CBS) and served as associate choreographer numerous times for the Academy Awards. Feature films he has worked on include: Cinderella, Ted 2, A Million Ways To Die In The West and Beyond The Sea. Chris has worked closely with Charlize Theron, Channing Tatum, Seth MacFarlane, Neil Patrick Harris, Daniel Radcliffe, Kenneth Branagh, and Hugh Jackman. Chris is originally from Leicestershire, UK and now lives in New York City.
NICK FINLOW (Musical Supervision and Arrangements) is the Musical Supervisor, Additional Music & Vocal Arranger for the New Musical, The Time Traveller's Wife, Musical Supervisor, Vocal & Additional Music Arranger for Back to The Future London and Musical Supervisor for Dreamgirls UK Tour. He is UK Musical Supervisor for The Book of Mormon London and UK Tour and Associate Musical Supervisor for Mamma Mia! London. Previous work includes: Musical Supervisor and Conductor for Dreamgirls – London, Musical Supervisor: Memphis – London, Avenue Q UK Tour, Les Miserables UK Tour. Musical Director roles include: The Book Of Mormon, Jersey Boys, Avenue Q, Acorn Antiques, Mamma Mia!, Tonight's The Night, Tell Me on a Sunday & Rent. Recordings: Co-Producer & Musical Supervisor – Back To The Future Original London cast album, Musical Supervisor: Dreamgirls London cast album, Memphis London cast album. He graduated from the Guildhall School of Music and has a postgraduate diploma in Advanced Piano studies.
TIM LUTKIN (Lighting Design). London West End: Life Of Pi (Wyndhams Theatre) (Laurence Olivier Award - Won); Back To The Future - The Musical (Adelphi Theatre) (Laurence Olivier Award - Nomination); Four Quartets starring Ralph Fiennes (Harold Pinter Theatre); Chimerica (Harold Pinter Theatre and Almeida) (Laurence Olivier Award - Won); Fiddler On The Roof (Playhouse Theatre); Big - The Musical (Dominion Theatre & National Tour); Noises Off (Garrick Theatre); Elf - The Musical (Dominion Theatre & National Tour); Quiz (Noël Coward Theatre); The Girls - The Musical (Phoenix Theatre); The Go Between starring Michael Crawford (Apollo Theatre); Close To You Bacharach Reimagined (Criterion Theatre); Impossible (Noël Coward Theatre); Strangers On A Train (Gielgud Theatre) (WhatsOnStage Award - Nomination); The Full Monty (Noël Coward Theatre & National Tours); A Number (Old Vic Theatre); Lungs (Old Vic Theatre); Present Laughter (Old Vic Theatre) (WhatsOnStage Award - Nomination); The Crucible (Old Vic Theatre); David Blaine Live (Hammersmith Apollo and National Arena Tour); Dynamo Live - Seeing Is Believing (Hammersmith Apollo and World Arena Tour).
HUGH VANSTONE (Lighting Design) has designed lighting for over 200 productions worldwide and received many accolades for his work including two TONYs and three Olivier Awards for best lighting. Broadway credits include A Christmas Carol (2019 Tony award), The Boys in the Band, Groundhog Day, An Act of God, I'll Eat You Last..., Matilda (2013 Tony Award), Ghost (Tony nom), La Bête, Mary Stuart (Tony nom), A Steady Rain, God of Carnage, Shrek, Boeing-Boeing, Spamalot (Tony nom), Bombay Dreams, Life x3, The Graduate, Blast!, Follies, The Unexpected Man, Closer, The Blue Room, ART . Hugh is based in London where he has won three Olivier Awards for Best Lighting. More at hughvanstone.com

FINN ROSS (Video Design). He has won two Oliviers, a Tony and three Drama Desks & four What's on Stage Awards. Recent work…Theatre: Tammy Fey, Spring Awakening (Almeida); My Neighbour Totoro (RSC); Dancin (Broadway); Back to the Future (West End); Frozen (West End) Les Misérables (West End); Sweet Charity (Donmar); Mean Girls  (Broadway), Bat out of Hell (West End and International), Harry Potter and the Cursed Child (West End & Broadway), Curious Incident of the Dog in the Night-Time (Broadway/West End/Tour); Jagged Little Pill, In the Body of the World (American Reparatory Theatre & Broadway); American Psycho (Broadway & Almeida); Betrayal (Broadway); Chimerica (Almeida & West End); The Tempest (The RSC & Barbican); Master and Margarita, All My Sons, Shunkin (Complicite) Opera: The Rise and Fall of the City of Mahogany (Royal Opera House); Missa Solemnis (LA Phil); Benvenuto Cellini, Death of Klinghoffer, Death in Venice, Damnation of Faust, Don Giovanni, (ENO); Hänsel und Gretel, Zäuberflote, A Dog's Heart (DNO, Amsterdam); La clemenza di Tito, Mr Brouček (Opera North); Les Pêcheurs de Perles, Béatrice et Bénédict, Turn of the Screw (Theatre an der Wien); Rinaldo (Glyndebourne);  Dance: Anna Karenina (The Joffrey Ballet); The Nutcracker (Atlanta Ballet); The Feeling of Going (Skånes Dansteater and Malmö Opera) Music: Cold Play (Music of the Spheres); Sam Fender (17 Going Under); Foals (Life is Yours); Herbert Grönemayer (20th Anniversary Concert); Mark Ronson (Midnight Feeling), J Balvin Fornightmares (Fortnight), W Hotel Instillation (Guangzhou, China); Rolling Stones Exhibitionism (International).
GARETH OWEN (Sound Design). Sound Design Award highlights: Tony Award & Drama Desk Award for MJ: The Musical; Olivier Award, Outer Critics Circle Award, Broadway World Award, Green Room Award, Dora Award, Craig Noel Award and the WhatsOnStage Award for Come From Away; Olivier Award for Memphis; Olivier Award for Merrily We Roll Along; Tony nomination for A Little Night Music; Tony nomination for End Of The Rainbow; Olivier nomination for Back To The Future; Olivier nomination for Bat Out Of Hell; Olivier nomination for Top Hat; Olivier nomination for End Of The Rainbow and Pro Sound Award for Sound Engineer Of The Year. Broadway highlights: MJ: The Musical, & Juliet, Diana, Summer, Come From Away, A Bronx Tale, Spring Awakening, End Of The Rainbow, Bat Out Of Hell, Secret Garden and A Little Night Music. West End Highlights: Back To The Future, ALW's Cinderella, Prince Of Egypt, & Juliet, Come From Away, Bat Out Of Hell, Strictly Ballroom, 42nd Street, Wind In The Willows, Memphis, I Can't Sing, In The Heights, La Cage Aux Folles and Top Hat. International highlights: Starlight Express (Bochum, Germany), Disney's Hunchback Of Notre Dame (Worldwide), Disney's Little Mermaid (Worldwide).

CHRIS FISHER (Illusions) is a member of The Magic Circle. He works worldwide as International Illusions & Magic Associate for Harry Potter and the Cursed Child. Theatre as Illusion Consultant in New York includes; Company (Bernard B Jacobs Theatre), Angels in America (Neil Simon Theatre), Superhero (Tony Kiser Theatre). Illusion Consultant in London and UK:  Charlie and the Chocolate Factory (Leeds Playhouse), The Time Traveller's Wife (Chester Storyhouse), Back to the Future: The Musical (Adelphi); 2:22 - A Ghost Story (Criterion, Gielgud and Noel Coward). The Lion, the Witch and the Wardrobe (Gillian Lynne and UK tour); Bedknobs and Broomsticks (UK Tour), Wicked (NeueFlora Theatre, Hamburg); Merlin (Northern Ballet); The Prince of Egypt (Dominion); Big the Musical (Dominion); Company (Gielgud), Peter Gynt (National Theatre); Julie (National Theatre); Angels in America (National Theatre); Macbeth (RSC, Swan Theatre and Barbican); Titus Andronicus (RSC), Barnum (Menier Chocolate Factory); The Hypocrite (Hull Truck Theatre/RSC, Swan Theatre); No Man's Land (Wyndham's); Into the Woods (Royal Exchange); Here We Go, Treasure Island (National Theatre); The Skriker (Royal Exchange).
ETHAN POPP (Orchestrations) is a Grammy Award nominated music producer as well as an Olivier Award and two-time Tony Award nominated orchestrator. With a career spanning over the last twenty years, his work as a music supervisor, arranger, orchestrator and music producer has been seen and heard worldwide. Theatre: Back To The Future (2022 Olivier Award Nomination – Best Original Score Or Orchestrations), Mrs. Doubtfire, Tina: The Tina Turner Musical (2021 Tony Award Nomination – Best Orchestrations), School of Rock (2016 Tony Award Nomination – Best New Musical), Hedwig And The Angry Inch (2015 Tony Award Winner – Best Revival of a Musical), Motown The Musical (2013 Tony Award Nomination – Best Orchestrations & 2014 Grammy Award Nomination – Best Musical Theatre Album), Rock of Ages (2008 Tony Award Nomination – Best New Musical), Disney's Tarzan, We Will Rock You, Disney's Aida, Disney's The Lion King, Mamma Mia! and more. Television: Ethan has served as a composer, music producer, arranger and orchestrator on works from NBC/Universal's "Smash" and HBO's "Last Week Tonight with John Oliver." Film: His work on the big screen can be heard most notably as Music Director and Music Production Supervisor for 20th Century Fox's The Greatest Showman starring Hugh Jackman, and as vocal and piano coach to Academy Award winner Rami Malek in his starring role in Bohemian Rhapsody. www.ethanpopp.com
BRYAN CROOK (Orchestrations) is a Tony and Olivier-nominated orchestrator, songwriter, producer, composer, arranger, and multi-instrumentalist. He has performed on and contributed to several Grammy-winning albums and his career has been full of varied collaborations, from orchestral, Broadway, film, and television to jazz, pop, rock, EDM, and heavy metal. Credits include Ice Age 4 (Fox), The Emmy Awards, The Wizarding World of Harry Potter (Universal Studios), The Billboard Music Awards, The Tony Awards, Motown the Musical, The Book of Mormon, Back to the Future: The Musical, "Smash" (NBC), Legally Blonde, West Side Story, First Date, In the Heights, and Doubtfire among many others. He has played woodwinds in over 25 Broadway pit orchestras and touring shows around the world. Bryan maintains a busy studio schedule, composing, songwriting, recording,  and producing music for film, TV, and commercial projects. He works with an amazing team of artists and producers through his production and publishing company Mana Music & Media with his best friends and partners Michael and Sarah Surprenant. Bryan's work can currently be heard in worldwide companies of Back to the Future: The Musical, Book of Mormon and Doubtfire. Bryan's most important credits will always be a husband to Hilary and father to Liam, Ethan, and Henry. I love you all dearly.
DAVID CHASE (Dance Arrangements). Music director, supervisor and/or arranger for over 40 Broadway productions. Many arrangements and orchestrations for the Boston Pops (including their signature Twelve Days of Christmas), The Kennedy Center Honors, Radio City Music Hall, and TV's "The Marvelous Mrs. Maisel," "Love and Death" and "Crazy Ex-Girlfriend."  Music director and arranger for NBC's "Sound of Music Live!" and "Peter Pan Live!" (Emmy nominations for both), and Apple TV's "Schmigadoon!." Choral works recorded by Judith Clurman's EssentialVoicesUSA and published by Hal Leonard. Grammy and Olivier nominations. David lives in NYC with his wife, actress and Drama Desk nominee Paula Leggett Chase, and their two sons, Kyler and Dashiell.

TED ARTHUR (Music Director). Moulin Rouge! (International Associate Music Supervisor), Broadway: Diana: The Musical (Music Director), The Prom (Associate Conductor), Once On This Island (Assistant Conductor). Moulin Rouge Broadway, Mean Girls, Dear Evan Hansen, Wicked.  Ted is on the Broadway Cares/Equity Fights AIDS Board of Trustees and a member of MUSE (Musicians United for Social Equity).
TARA RUBIN (Casting). Selected Broadway and National Tours: KPOP, Mr. Saturday Night, Six, Ain't Too Proud, King Kong, The Band's Visit, Prince of Broadway, Sunset Boulevard, Miss Saigon, Dear Evan Hansen, Cats, Falsettos, School of Rock, Bullets Over Broadway, Big Fish, Billy Elliot, Shrek, Spamalot, …Spelling Bee, The Producers, Mamma Mia!, Jersey Boys, Les Miserables, The Phantom of the Opera. Selected Off-Broadway: Sing Street, Trevor, Between the Lines, Clueless, Gloria: A Life, Smokey Joe's Café, Here Lies Love.
ROGER BART (Doc Brown) is best known for originating the role of 'Carmen Ghia' in Mel Brooks' Broadway musical, The Producers, for which he received Tony and Drama Desk nominations. He revised the character for Universal's theatrical adaptation of The Producers as well. Roger won the Tony and Drama Desk Awards for playing Snoopy in You're A Good Man, Charlie Brown. Other Broadway credits include: Mel Brooks' Young Frankenstein in which he originated the title role of Dr. Frederick Frankenstein, Disaster, Triumph Of Love, The Frogs and Big River. Roger also had the unique privilege of playing Hades in the Public Theatre/Disney Theatricals production of Hercules at the Delacorte Theatre. An adaptation of the Disney animated feature Hercules, Roger sang the title character's song "Go The Distance" and was nominated for an Academy Award for best original song. On television, Bart can currently be seen on the Freeform series, "Good Trouble," which is the spin-off to their popular series, "The Fosters." He previously recurred on the Epix series, "Graves," starring opposite Nick Nolte and Sela Ward and also in "A Series Of Unfortunate Events," opposite Neil Patrick Harris on Netflix.  Some of his film credits include Trumbo,  Last Vegas, Law Abiding Citizen, American Gangster, The Stepford Wives, The Insider, Harold And Kumar Escape From Guantanamo Bay, Hostel Part II, Midnight Meat Train, Speech And Debate, and Ghost Light. Bart has also had recurring characters in a number of other television series: "Desperate Housewives" (playing George, the pharmacist), "Episodes" (SHOWTIME), "No Tomorrow," "Grace And Frankie," "Revenge," "There's…Johnny" and "The Lost Room."
HUGH COLES (George McFly). Rising star Hugh Coles has most recently appeared opposite Donald Glover in series 3 of "Atlanta" (FX) and just wrapped on the Roughcut / Channel 4 comedy "The Odds," as well as the Merman / Sky comedy series "Dreamland" taking one of the lead roles alongside Lily Allen, Freema Agyemann and Aimiee Ffion Edwards. He will soon be filming the BBC / HBO series "Juice." For originating the role of George McFly in Universal's musical adaptation of Back to the Future in 2022, Hugh was Olivier and Stage Debut-nominated as well as winning the WhatsOnStage Award for Best Supporting Actor in a Musical. A graduate of the prestigious LAMDA school in London, he is also known as series reg Liam in BBC's "Defending The Guilty" with Will Sharpe and Katherine Parkinson, with screen credits including the recent series of "Death In Paradise" (BBC), "Doc Martin" (ITV), and "The Mysterious Disappearance Of Agatha Christie" (Sky) with Anna Maxwell Martin. In film Hugh plays the support lead of Rex in The Festival (Fudge Park).