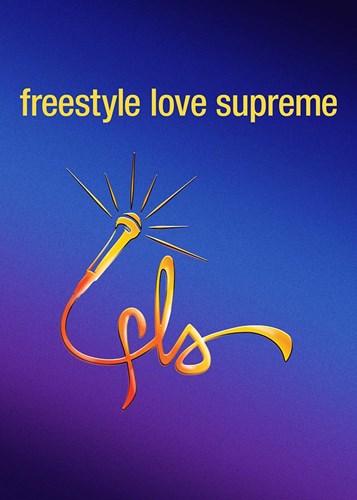 THOMAS KAIL, LIN-MANUEL MIRANDA, JENNY AND JON STEINGART & JILL FURMAN
ANNOUNCE
FREESTYLE LOVE SUPREME
BACK ON BROADWAY
SPECIAL SPONTANEOUS GUESTS INCLUDE LIN-MANUEL MIRANDA, CHRISTOPHER JACKSON, JAMES MONROE IGLEHART, UTKARSH AMBUDKAR,
WAYNE BRADY, DAVEED DIGGS, AND MANY OTHERS
June 16, 2021—Before Hamilton and In The Heights, there was FREESTYLE LOVE SUPREME, the highly-acclaimed improv sensation created by Thomas Kail, Lin-Manuel Miranda and Anthony Veneziale more than 17 years ago in the basement of the Drama Bookshop in New York City. The strictly limited
Broadway engagement, produced by Kail, Miranda, Jenny and Jon Steingart, and Jill Furman, will begin performances on Thursday, October 7, 2021 at the Booth Theatre, 222 W. 45th Street. The intermission-less show that Rolling Stone calls "pure joy" will end its limited engagement on Sunday, January 2, 2022.

"We are thrilled to be back on Broadway and part of this theatrical community we love so much. The immediacy of our show, with its content driven by audience suggestion, makes it one of the rare shows that can speak to whatever is happening in the moment. We cannot wait to be onstage at the Booth Theatre making people laugh," said Co-Creator, Producer and Director Thomas Kail.
"If live theater is coming back, so is FLS," said Co-Creator and Producer Lin-Manuel Miranda. "Our most important collaborator is the audience, and we can't wait to get back in the Booth."
Directed by Kail, FREESTYLE LOVE SUPREME is a joyful, improvised musical comedy show that Entertainment Weekly calls "lightning in a bottle." It features talented performers providing non-stop action throughout this fast-paced evening, spinning suggestions from the audience into humorous bits, instantaneous songs and riffs, and fully realized musical numbers. The electrifying vocals of the performers – from singing to rapping to beat-boxing with harmonies and freestyle flow – are backed by tight tunes from keyboards and human percussion. The show is created live every night with the audience contributing words, ideas and inspiration. No two shows are ever the same.
"Just as you were thinking that life has no rhyme nor reason, along comes FLS to pump you full of hope." -- The New York Times

FREESTYLE LOVE SUPREME's company includes Andrew Bancroft AKA "Jelly Donut;" Tarik Davis AKA "Tardis Hardaway;" Aneesa Folds AKA "Young Nees;" Arthur Lewis AKA "Arthur the Geniuses;" Kaila Mullady AKA "Kaiser Rözé;" Chris Sullivan AKA "Shockwave;" and Anthony Veneziale AKA "Two-Touch."
Special spontaneous and unannounced guests are planned for select performances during the run which may include Freestyle Love Supreme members Lin-Manuel Miranda, Christopher Jackson, Daveed Diggs, James Monroe Iglehart, Wayne Brady, Ashley Pérez Flanagan, Bill Sherman, Utkarsh Ambudkar and many more.

As the official card sponsor of FREESTYLE LOVE SUPREME on Broadway, American Express® Card Members have access to exclusive pre-sale tickets before the general public beginning Wednesday, June 16 at 10:00 am EST through Monday, June 21 at 9:59 am EST at www.freestylelovesupreme.com.

Presale tickets for FREESTYLE LOVE SUPREME are available exclusively to Audience Rewards® members from Monday, June 21 at 10:00 am EST through Wednesday, June 23 at 9:59 am EST.
Audience Rewards® is the Official Rewards Program of Broadway & the Arts™. It's a standing ovation for ticket buyers across the nation. Earn valuable ShowPoints every time you buy tickets to participating theatrical productions, live entertainment, and more. Save money by redeeming ShowPoints for free tickets to the events you love or, even better, securing unique experiences and merchandise exclusively curated for Audience Rewards® members. It's free and fast to join at www.AudienceRewards.com.

Tickets will go on sale to the general public on Wednesday, June 23 at 10:00 am EST at Telecharge at (212) 239-6300 or www.Telecharge.com. A lottery for a limited number of $25 tickets will be offered during the run.

In name and beyond, FREESTYLE LOVE SUPREME pays homage to John Coltrane's "A Love Supreme," with a nod to musical roots in jazz, soul, blues and hip-hop. FREESTYLE LOVE SUPREME was originally developed and produced in 2004 by Ars Nova, in association with Jill Furman and Back House Productions. The show has played in all five boroughs and many states, as well as the U.S. Comedy Festival, Edinburgh Fringe Festival, Melbourne Comedy Festival, and the Montreal Just for Laughs Festival. Hulu premiered the documentary "We Are Freestyle Love Supreme" at the Sundance Film Festival in 2020 and the acclaimed film was nominated for a Grammy Award.

The show is directed by Thomas Kail and produced by Kail, Lin-Manuel Miranda, Jenny and Jon Steingart, and Jill Furman. It features set design by Beowulf Boritt; costume design by Lisa Zinni; lighting design by Jeff Croiter; and sound design by Nevin Steinberg. Andy Jones and James Hickey are Executive Producers. General Management provided by Baseline Theatrical. Production Stage Manager Cody Renard Richard.

Freestyle Love Supreme Academy has transformed the Broadway show's unique blend of improvisation, storytelling, and hip hop into international, interactive, virtual classes, with in-person classes to return in the fall. Freestyle Love Supreme Academy is the premiere improv hip-hop school created and run directly by Freestyle Love Supreme members, in partnership with long-time FLS producers Kail, Miranda, Ars Nova founders Jenny and Jon Steingart, and Hamilton co-producer Jill Furman. If you're inspired by the brilliance of Freestyle Love Supreme on stage, you'll love taking a class with Freestyle Love Supreme Academy. People from all backgrounds and levels of skill are welcomed into this joyful, creative community. For more information on Freestyle Love Supreme Academy classes or to RSVP for an upcoming class, email academy@freestylelovesupreme.com or visit https://fls.academy.

Based on CDC and New York state guidelines at the time of performance, protocols may include contact tracing survey, vaccination or negative test verification, limitations on belongings in the theatre, proper mask usage, assigned entry times, contactless temperature check, social distancing, and more. Specific health & safety protocols are subject to change but will be clearly communicated to ticket holders in advance of their performance.

FREESTYLE LOVE SUPREME begins previews on Thursday, October 7, 2021 and runs to Sunday, January 2, 2022 for a strictly limited engagement at the Booth Theatre on Broadway, 222 West 45th Street. There will be a limited number of $25 lottery tickets offered per performance. Tickets be can purchased at Telecharge beginning Wednesday, June 23 at 10:00 am EST at (212) 239-6300 or www.Telecharge.com.