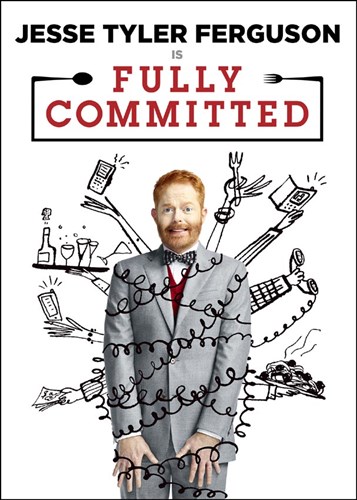 Final Four Weeks to See FULLY COMMITTED on Broadway
THE HIT BROADWAY COMEDY MUST CLOSE ON JULY 31, 2016

JESSE TYLER FERGUSON "IS A COMIC DYNAMO!"
The New York Times

"A TOUR DE FORCE!"
Variety, The Hollywood Reporter, New York Post, The Guardian, Playbill, The Huffington Post

FOUR STARS!
Time Out New York, The Guardian

"NON-STOP LAUGHTER!" "SPITFIRE HUMOR!"
The Wall Street, Journal NY1

"HILARIOUS!" "A MASTER CLASS IN HYSTERIA!"
Time Out New York The Huffington Post
The hit comedy, Fully Committed, starring five-time Emmy Award nominee & Drama Desk Award winner Jesse Tyler Ferguson ("Modern Family"), will conclude its acclaimed Broadway engagement on Sunday, July 31, 2016 at 7pm at the Lyceum Theatre (149 W 45th St).

Ferguson is back on Broadway as nearly 40 outrageous characters in this delectably funny one-man show by Becky Mode, directed by Tony-nominated director Jason Moore (Pitch Perfect, Avenue Q, Sisters).

FULLY COMMITTED is produced by Barbara Whitman, Patrick Catullo, Marcia Goldberg, Tom Casserly, Aaron Glick and David Binder.

You think you're having a bad day? Meet Sam (Ferguson). He works the red-hot reservation line at one of New York's trendiest restaurants, where the best food inspires the worst behavior. Coercion, petty threats, bribes, histrionics—a cast of desperate callers, all brought to life by Ferguson, will stop at nothing to land a prime reservation, or the right table in Becky Mode's hilarious and delicious comedy. Amid the barrage, Sam has his own problems to deal with. While juggling scheming socialites, name-dropping wannabes, fickle celebrities and egomaniacal bosses, can he still manage to look out for himself?

Fully Committed is based on characters created by playwright Becky Mode and Mark Setlock, from their experience working in the blistering world of the high-end restaurant industry.

The creative team for FULLY COMMITTED includes: Derek McLane (Set), Sarah Laux (Costume), Ben Stanton (Lighting), Darron L West (Sound) and Jeff Richmond (Original Music).