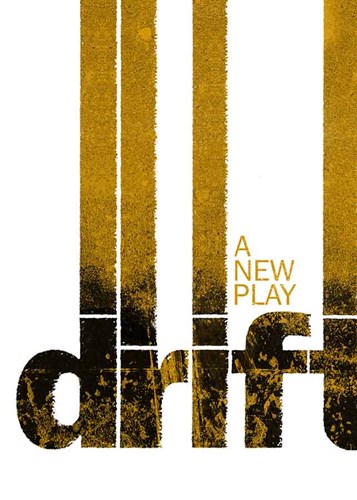 DRIFT, A NEW PLAY DIRECTED BY OSCAR® WINNER
BOBBY MORESCO (CRASH) AND STARRING EMMY® WINNER
JOE PANTOLIANO (THE SOPRANOS)
MAKES ITS WORLD PREMIERE AT NEW WORLD STAGES
New York, New York, January 23 - DRIFT – a new American drama written by William Francis Hoffman (Cal in Camo), directed by Academy Award® winner Bobby Moresco (Crash, Million Dollar Baby) and starring Emmy® winner Joe Pantoliano (The Sopranos)  will have its world premiere Off-Broadway production from February 27 through May 24  at New World Stages, (340 West 50th Street in Manhattan). 

Set in the blue collar, urban landscape of the 1950's, DRIFT is the hard-hitting new drama where secrets come to a head, difficult choices must be made and devastating consequences must be faced. The world premier of this new American play stars Emmy Award® winner Joe Pantoliano  (The Sopranos) with Patrick Brennan (Ernest Thompson's White People Christmas, The Twilight Saga: Breaking Dawn, Captain Marvel), Richard R. Henry (Two Gentleman of Verona, Shakespeare in The Park), Alex Mickiewicz  (Long Day's Journey Into Night) and Griffin Osborne (The Ferryman).

Said Moresco, "On my first reading of DRIFT, the universal themes of family struggle, destruction, reconciliation and the need for salvation rang as true to me as anything from the classical works of Arthur Miller or Tennessee Williams. It is clear to me that DRIFT is a great new American play and playwright William Francis Hoffman is a new voice in the classical traditions of American theater. And yet, DRIFT is also something totally and completely contemporary and original."

He added, "Each one of us has been reared from a family that has inevitably endured a crisis and has been destroyed, rehabilitated, and for some, built back up again by our human need to persevere. Those themes and the characters filled with human foible and the comedic interplay between brothers, weaves us into an unforgettable world of characters and story that has stayed with me since my first reading and I suspect will be with me and the audience long after."

DRIFT is produced by Bobby Moresco, James Cahill, Joanna Cahill, Jack Kavanaugh, Leslie Kavanaugh, Kate Mott Morrow and Karly Fischer (Executive Producers)
The creative team includes Edward T. Morris (Scenic Designer), Gina Ruiz (Costume Designer), Emily Clarkson (Lighting Designer) and Sean Hagerty (Sound Designer). Casting is by Pat McCorkle, C.S.A.
About Bobby Moresco
Bobby Moresco's stage work includes writing and directing over 30 plays Off and Off-Off Broadway and directing An Irish Wake at the Helen Hayes on Broadway. His most recent theatrical venture was directing Colin Quinn: Red State Blue State, starring Colin Quinn at New York's Minetta Lane Theater in January, 2019. He also directed the television event "Colin Quinn: Red State Blue State" which aired as a comedy special on CNN and Netflix. Moresco co-wrote (with Paul Haggis) and produced the breakout film Crash. In 2005, Moresco and Haggis were awarded an Oscar® for co-writing the film. In addition to winning in the Original Screenplay category, Crash won additional Oscars® for Best Picture and Achievement in Editing. Moresco also received the WGA, BAFTA and Critic's Choice awards for his work on the screenplay. Moresco's other features include, Million Dollar Baby (2005 Academy Award® Winner for Best Picture), which he co-produced and developed with Paul Haggis.
About William Francis Hoffman
DRIFT playwright William Francis Hoffman also wrote Cal in Camo which received its world premiere Off-Broadway at the Rattlestick Playwrights Theater in May, 2016. Cal in Camo received its Midwest premiere in 2018 at the Rivendell Theatre Ensemble in Chicago, IL. The production garnered a Joseph Jefferson Award in the supporting role category for actor Keith Kupferer. Cal in Camo received subsequent productions and readings in Los Angeles, New Paltz, New York and Brisbane, Australia. DRIFT was developed at the Actor's Gym in Los Angeles and workshopped as part of the New Plays/New Year Festival at Palm Beach Dramaworks in Palm Beach, FL in 2019.
About Joe Pantoliano
Joe Pantoliano has amassed an impressive catalog  of classic American film, theater and television titles, collaborating with some of Hollywood's most prestigious filmmakers including Christopher Nolan (Memento), Steven Spielberg (The Goonies, Empire of the Sun), The Wachowskis' (The Matrix), Andrew Davis (The Fugitive, Steal Big Steal Little), Michael Bay (Bad Boys), and Martin Brest (Midnight Run). His theater credits include John Patrick Shanley's Italian American Reconciliation, Lyle Kessler's Orphans and Terrence McNally's Frankie and Johnny in the Claire de Lune. Pantoliano's television appearances have included the hit TV series The Sopranos, for which he received a Primetime Emmy Award® for 'Outstanding Supporting Actor in a Drama Series." Pantoliano can also be seen in the recently released  Bad Boys for Life alongside Will Smith and Martin Lawrence.
###