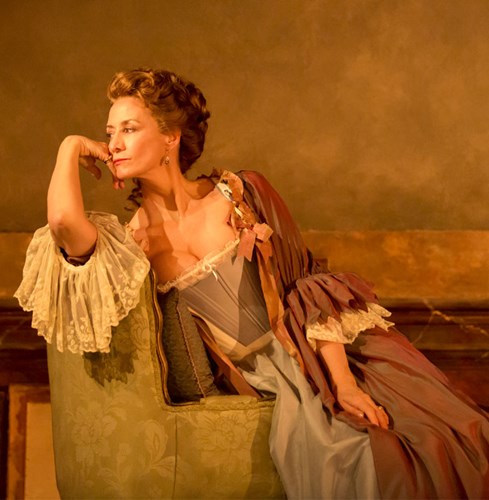 Janet McTeer and Liev Schreiber
Return to Broadway in
The Donmar Warehouse Production of
LES LIAISONS DANGEREUSES
By Christopher Hampton
Directed by Josie Rourke
15-Week Limited Engagement at the Booth Theatre
Performances begin October 8, 2016 & Opening Night is October 30, 2016

Tony Award winners Janet McTeer and Liev Schreiber will return to Broadway this Fall in the Donmar Warehouse production of Les Liaisons Dangereuses by Christopher Hampton, directed by the Donmar's Artistic Director Josie Rourke. The production begins performances on Saturday, October 8, 2016 and will open on Sunday, October 30, 2016 at the Booth Theatre (222 W 45th St). This is a 15-week only engagement through Sunday, January 22, 2017.
In 1782, Choderlos de Laclos' novel of sex, intrigue and betrayal in pre-revolutionary France scandalized the world. Two hundred years later, in 1985, Christopher Hampton's stage adaptation became an award-winning sensation in London's West End and on Broadway, followed by the Academy Award-winning film Dangerous Liaisons starring Glenn Close, John Malkovich and Michelle Pfeiffer. Josie Rourke's acclaimed production transfers to Broadway after a sold-out engagement at London's Donmar Warehouse which ended earlier this year and starred Janet McTeer. The production was nominated for the Olivier Award for Best Revival.
Les Liaisons Dangereuses will be produced on Broadway by Arielle Tepper Madover.
Janet McTeer, who will play "La Marquise de Merteuil," earned a Tony Award for her Broadway debut in A Doll's House and most recently appeared on the Broadway stage in God of Carnage and the Donmar's Mary Stuart. She can also be seen this summer in the Public Theater's Shakespeare in the Park production of Taming of the Shrew.
Liev Schreiber, who will play "Le Vicomte de Valmont," earned a Tony Award for his performance in Glengarry Glen Ross, and received a Tony nomination for his most recent Broadway appearance in A View from the Bridge. He is currently starring in the hit Showtime series "Ray Donovan."
Director Josie Rourke, who is currently in rehearsal for Nick Payne's new play Elegy at the Donmar in London, is represented this summer in New York with the just announced The Public Theater/Donmar Warehouse co-production of Privacy.  Co-conceived by James Graham and Josie Rourke, Privacy is written by James Graham and directed by Josie Rourke.
Christopher Hampton received an Academy Award for the movie Dangerous Liaisons. He is currently represented on Broadway with the acclaimed adaptation of Florian Zeller's The Father and in London with his new version of Zeller's The Truth as well as the return of Sunset Boulevard starring Glenn Close.
Here is some of the critical acclaim for Josie Rourke's production at the Donmar:
"*****THEATRE AT ITS MOST SEDUCTIVE AND SINISTER." (Evening Standard)
"Has there ever been a better stage adaptation of a novel than this? Josie Rourke's revival is AN EVENING TO RICHLY SAVOUR." (Guardian)
"HEADY AND INTOXICATING." (Telegraph)
"A SUMPTUOUS EVENING. Josie Rourke's production is LUSH. Janet McTeer is ABSOLUTELY MAGNIFICENT." (The Times of London)
"Josie Rourke's revival is INTIMATE, STEAMY. A beautifully costumed, handsome, hothouse world, draped with shimmering silver organza, lit by flickering candles and twinkling, smoky-glassed candelabra. SEXY AND SOPHISTICATED." (Daily Mail / Sunday)
"Marvel all over again at the BRILLIANCE OF CHRISTOPHER HAMPTON'S ADAPTATION. Josie Rourke has given us a Liaisons Dangereuses to relish: FUNNY, MOVING AND UNCOMFORTABLY PROVOCATIVE." (Sunday Times)
Former lovers, La Marquise de Merteuil and Le Vicomte de Valmont compete in games of seduction and revenge. These merciless aristocrats toy with the hearts and reputations of innocents. Merteuil incites Valmont to corrupt the convent-educated Cecile de Volanges before her wedding night but Valmont has other designs. His target is the peerlessly virtuous and happily married Madame de Tourvel.
The creative team includes Tom Scutt (Set & Costume Designs), Mark Henderson (Lighting Design), Carolyn Downing (Sound Design), Michael Bruce (Original Music), Richard Ryan (Fight Director) and Arthur Pita (Movement Director). Casting by Caparelliotis Casting. General Management by 101 Productions, Ltd.
#          #          #
Visit www.LiaisonsBroadway.com for more information.
Follow Les Liaisons Dangereuses on @liaisonsbway
BIOGRAPHIES
JANET McTEER (La Marquise de Merteuil) has appeared on Broadway in God of Carnage, the Donmar's production of Mary Stuart (Drama Desk Award & Tony Award nomination) and A Doll's House (Tony, Drama Desk, Outer Critics Circle & Theatre World Awards). A two time Oscar nominee, Tony, Olivier and Golden Globe winner, Janet McTeer is one of England's most respected actresses. Her London stage credits include Les Liaisons Dangereuses and Mary Stuart (Olivier Award nominations - Donmar); God of Carnage (Gielgud); The Duchess of Malfi (NT); Uncle Vanya (Olivier Award nomination - NT); The Taming of the Shrew (Globe); A Doll's House (Olivier Award – Playhouse); Simpatico, Greenland, The Grace of Mary Traverse (Olivier Award nomination - Royal Court); Much Ado About Nothing (Queen's); A Midsummer Night's Dream, Worlds Apart, The Storm (RSC); As You Like It, Three Sisters, Great Expectations, Cymbeline (Manchester Royal Exchange). Her film credits include The Kaiser's Last Kiss, Me Before You, Paint It Black, Fathers and Daughters, Insurgent, Angelica, Maleficent, Hannah Arendt, The Woman in Black, Albert Nobbs (Golden Globe Award & Academy Award nomination), As You Like It, Tideland, Songcatcher and Tumbleweeds (Golden Globe Award & Academy Award nomination). Her television credits include lead roles in the series of "Battle Creek," "The Honourable Woman," "The White Queen" (Golden Globe Award nomination), "Parade's End," "Damages," "Into the Storm" (Golden Globe Award and Emmy Award nominations) and "Sense & Sensibility." In 2008, she was awarded an OBE.
LIEV SCHREIBER (Le Vicomte de Valmont) has appeared on Broadway in A View From the Bridge (Tony nomination, Drama Desk Award), Talk Radio (Tony nomination), Glengarry Glen Ross (Tony Award), Betrayal and In the Summer House. His other stage work includes the Public Theater's Shakespeare in the Park productions of Macbeth and Cymbeline, as well as the Public's productions of Othello, Hamlet and Henry V. His performance in the title role of Showtime's "Ray Donovan" earned him a Golden Globe Award nomination. In 2005, Schreiber made his feature directorial debut with Everything is Illuminated, which he also adapted from Jonathan Safran Foer's best-selling novel. His many feature credits include Spotlight; Pawn Sacrifice; The Butler; Clear History; Fading Gigolo; The Reluctant Fundamentalist; Salt; X-Men Origins: Wolverine; Defiance; Repo Men; The Painted Veil; The Manchurian Candidate; The Sum of All Fears; Taking Woodstock; Kate & Leopold; Goon; Every Day; Hamlet; Spring Forward; The Hurricane; A Walk on the Moon; The Daytrippers; Mixed Nuts; and the Scream trilogy. His portrayal of Orson Welles in RKO 281 earned him Emmy and Golden Globe Award nominations. His other telefilm credits include Lackawanna Blues and The Sunshine Boys. As one of the documentary medium's foremost narrators, he has lent his voice to such works as Mantle; :03 from Gold; A City on Fire: The Story of the '68 Detroit Tigers; "Nova" and "Nature." He will next star in the film, The Bleeder, which he also co-produced. The bio-pic tells the story of Chuck Wepner, the liquor store salesman and heavyweight boxer who was given the opportunity to fight Muhammad Ali as an underdog and was the inspiration for the film, Rocky. Schreiber will play Wepner alongside Naomi Watts, Ron Perlman, and Elisabeth Moss.
CHRISTOPHER HAMPTON (Playwright) is a prolific playwright, screenwriter and director. In addition to writing the stage play Les Liaisons Dangereuses, he also wrote the screenplay for the 1988 film adaptation Dangerous Liaisons starring Glenn Close, John Malkovich and Michelle Pfeiffer, for which he won the Academy Award for Best Adapted Screenplay. More recently Christopher adapted Ian McEwan's Atonement for the screen, earning an Academy Award nomination for Best Adapted Screenplay. Christopher wrote his first play When Did You Last See My Mother? while at Oxford University. It was subsequently performed at the Royal Court, before transferring to the Comedy Theatre in 1966. He then went on to become the Resident Dramatist and literary manager at the Royal Court from 1968 to 1970. Christopher's plays The Philanthropist and Tales From Hollywood have both been performed at the Donmar and his other plays include Total Eclipse, Alice's Adventures Under Ground, The Talking Cure and Appomattox. Christopher has written the book and lyrics for several successful musicals including Sunset Boulevard and Stephen Ward with Andrew Lloyd Webber and Don Black, and musical adaptations of Dracula and Rebecca.
JOSIE ROURKE (Director) is the Artistic Director of the Donmar Warehouse where she directed Les Liaisons Dangereuses, which was broadcast live in cinemas around the world in partnership with National Theatre Live and nominated for the Olivier Award for Best Revival; The Vote, which was broadcast live nationwide on television on the night of the 2015 UK election to an audience of over half a million and nominated for a BAFTA; City of Angels, which received the Olivier Award for Best Musical Revival; Coriolanus, which was broadcast live in cinemas in partnership with National Theatre live and for which Tom Hiddleston won the Evening Standard Award for Best Actor; The Weir, which transferred to Wyndham's Theatre; The Machine at Manchester International Festival and at Park Avenue Armory, New York; Berenice; The Physicists; The Recruiting Officer; Frame 312; World Music; and The Cryptogram. Her additional theatre credits include Much Ado About Nothing at Wyndham's Theatre, nominated for the Olivier Award for Best Revival; Men Should Weep at the National Theatre; Twelfth Night at Chicago Shakespeare; Crazyblackmuthafuckin'self, Loyal Women at the Royal Court; King John and Believe What You Will at the Royal Shakespeare Company; and The Long and the Short and the Tall, Kick for Touch at Sheffield Theatres, where she was Associate Director. Josie was previously Artistic Director of the Bush Theatre, which was named Theatre of the Year under her leadership. At the Bush Theatre, her credits include the premiere of If There Is I haven't Found it Yet by Nick Payne. She is currently in rehearsal for Nick Payne's new play Elegy.
ARIELLE TEPPER MADOVER (Producer) is The Board Chair at The Public Theater in New York City as well as a Tony Award winning Theater & Film Producer. Mrs. Madover has had a long-standing relationship with The Donmar Warehouse since 2005. She worked with Artistic Director Michael Grandage from 2005 to 2012 and Josie Rourke starting in 2012.  Mrs. Madover is Executive Producer of the film Genius by John Logan directed by Michael Grandage starring Colin Firth, Nicole Kidman, Jude Law, and Laura Linney. Mrs. Madover's theatrical credits include:  Broadway: The Elephant Man, The Cripple of Inishmaan, Annie, Lucky Guy, I'll Eat You Last: A Chat With Sue Mengers, Red, Hamlet, Hair, Mary Stuart, Equus, Monty Python's Spamalot, Frost/Nixon, The Pillowman, A Raisin in the Sun, John Leguizamo's Freak. West End: My Night with Reg, Piaf, Monty Python's Spamalot, Frost/Nixon, Guys and Dolls, Mary Stuart, A Voyage Round My Father. Off- Broadway: Dear Evan Hansen, De La Guarda, The Last Five Years. Mrs. Madover is on the Board of Governors for The Broadway League.  She is an Emeritus member of the Syracuse University Board of Trustees and a past Board member of The Dalton School. She founded the Summer Play Festival and the Tepper Center for Careers in Theatre. Mrs. Madover is also a member of the Juilliard Drama Council and has been listed in Crain's 40 under 40 and was one of Cosmopolitan's Fun Fearless Females.

The DONMAR WAREHOUSE is renowned as one of the UK's leading producing theatres, with an international reputation for artistic excellence, winning over 100 major awards during its 24-year history. Led by Artistic Director Josie Rourke and Executive Producer Kate Pakenham, this 252-seat not-for-profit theatre, based in Covent Garden in the heart of London's West End, seeks to shine a new light on classics and Shakespeare, present innovative revivals of contemporary British, Irish and American drama, and bring the best new writing to its stage. It is committed to producing work in direct conversation with our society and provoking dialogues relevant to today's world and contemporary audiences. The Donmar has a mission to extend its reach and broaden its audience as widely as possible, regularly taking its productions into the West End, to New York and beyond. Through live cinema and television broadcast, the Donmar is committed to seizing the opportunity modern technology offers to reach as wide an audience as possible. In 2015 alone, in addition to the 90,000 people who saw productions in the Donmar theatre, another 750,000+ people experienced a Donmar production beyond the walls of the Donmar itself. The Donmar believes in the power of theatre to change lives and empower young people. Our extensive education programme works with schools and communities across London and beyond, fostering a new generation of theatregoers. For more information visit www.donmarwarehouse.com