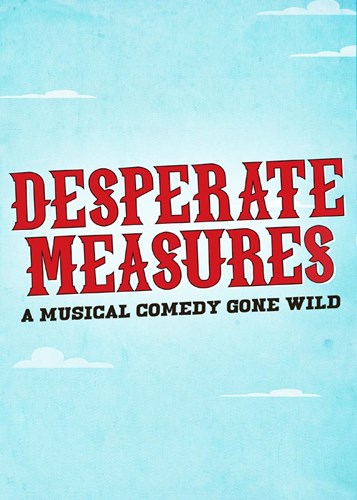 DESPERATE MEASURES

Music by DAVID FRIEDMAN
Book and Lyrics by PETER KELLOGG

Directed and Choreographed by BILL CASTELLINO

Performances begin May 30th
Opening Night is June 13


These Times Call For Desperate Measures...
Desperate Measures, a musical comedy gone wild with music by David Friedman (Listen To My Heart), book and lyrics by Peter Kellogg  (Anna Karenina),and directed by Bill Castellino (Cagney, Marry Harry), will play New World Stages (340 West 50th Street between 8th and 9th Avenues), it was announced today by producers Pat Flicker Addiss and Mary Cosette. Following critical and audience acclaim at The New York Musical Festival and The York Theater Company, performances for the open-ended engagement begin May 30th and opening night is set for June 13th.
Desperate Measures is a hilarious new musical that tells the tale of Johnny Blood, a handsome young man whose life is in danger over a saloon brawl. Set in the early 1890's, Johnny must put his fate into the hands of a colorful cast of characters including a wily sheriff, an eccentric priest, a authoritarian governor, a saloon girl gone good, and a nun out of the habit- as they all struggle to decide Johnny's fate.  Laws are broken and hearts are won as they try to find justice in a world that often doesn't seem just. Sound familiar? Inspired by Shakespeare's Measure for Measure, the musical is a joyful, madcap comedy that also manages to ponder the nature of justice. Will the good guys pull off the greatest caper yet, or will Johnny be left hanging? One thing is certain...you will come out smiling.
Desperate Measures previously ran at The York Theater Company, earlier this year. Of that production, The New York Times cheered, "Wonderful... A delight ...Such a hoot," The Huffington Post raved, "A good old-fashioned musical comedy. Desperate Measures is a happy surprise of a show filled with enjoyable songs, a talented cast. A solid example of musical comedies that once reigned supreme" and Theatermania applauded, "Ye haw! A production of infinite jest and most excellent fancy. delicious buffoonery with infectious glee."
The cast of Desperate Measures will be announced in the coming weeks.
Desperate Measures features scenic design by Jim Morgan (Cagney, Souvenir, Sweeney Todd), costume design by Nicole Wee (Closer Than Ever, Storyville), lighting design by Paul Miller (Legally Blonde, The Illusionists) and sound design by Julian Evans (Tick, Tick Boom, jon and jen). David Hancock Turner (Subways Are For Sleeping, Hallelujah Baby) serves as musical director. Casting is by Carol Hanzel and the production stage manager is CJ LaRoche.
Creative Team Bios
Peter Kellogg (Book and Lyrics) has two Tony nominations for book and lyrics to a musical of Anna Karenina (composer Dan Levine). AK has had 3 acclaimed tours in Japan. With David Friedman, he created Chasing Nicolette (based on the French romance, Aucassin and Nicolette), produced at Westport Playhouse, the Prince and Village Theatre in Seattle; Stunt Girl, about Nellie Bly, New York City's first female reporter, which premiered at Village; and with composer Steve Weiner, he created a 10-person musical based on Sheridan's The Rivals.
David Friedman (Music) has written songs for everyone from Disney to Diana Ross; has written four other musicals with Peter Kellogg: Money Talks (Off Broadway run at the Davenport Theatre), Aucassin and Nicolette (Barrymore Award for best score) Nellie Bly and Lincoln in Love; collaborated with Deborah Brevoort on King Island Christmas; has performed his revue Listen to My Heart: The Songs of David Friedman for audiences Off-Broadway, all over America, and abroad; wrote songs for The Lizzie McGuire Movie, Aladdin and the King of Thieves, Bambi II, and Trick; scored three television series; contributed music to Broadway's Scandalous; conducted and vocal arranged six musicals on Broadway and numerous Disney animated films, including Beauty and the Beast, Aladdin, Pocahontas, and The Hunchback of Notre Dame; produced all of the late/great Nancy Lamott's CDs and wrote many of her best-known songs; and is currently in his 8th year of co-writing a song a month with Kathie Lee Gifford for the Everyone Has a Story segment on NBC's "The Today Show."
Bill Castellino (Director/Choreographer) has directed the world premiere productions of Cagney (NYC, FL, Toronto, LA), Soulmates (LV, FL), The Great Divorce (NY, National Tour), Grumpy Old Men (Winnipeg), Jolson at the Winter Garden (FL, LA), Dr. Radio (Florida Stage), Lizzie Borden (Goodspeed),Heartbeats (Pasadena Playhouse, FL, Goodspeed, Cleveland Playhouse), Miklat (Florida Stage), Fishwrap, A House Divided(TN Rep), The Singing Weatherman, Happy Holidays (Pasadena Playhouse), Presidents (National Tour), How to Be an American! (York), Real Actors of NYC, Crash Club, Another Summer, Hats Off (Boston), New Punims (FL, Boston), and Breathe, among others. Other credits include Marry Harry (York), Storyville (York), Ionescopade(LA, DC, York), Tarzan (Regional Premiere), Rent (Regional Premiere), Nightclub Cantata (LA), Gypsy, Rap Master Ronnie (LA, Chicago, DC, FL, Boston), The Rocky Horror Show, The 25th Annual Putnam Country Spelling Bee, Carousel, The Mystery of Edwin Drood, Godspell, La Cage aux Folles, The Music Man, West Side Story, Joseph and the Amazing Technicolor Dreamcoat, Tommy, Mardi Gras & The Last Word (NYC), Little Shop of Horrors, Beehive, Evita, Oliver, Cabaret, Abyssinia, The Last Five Years, Spitfire Grill, Smokey Joe's Cafe, Hair, Slab Boys, and Nunsense, among others. Tours: Fame, Jolson, Chess, Esther. Television: "Stop the World-I Want to Get Off" (A&E), "Bell'Aria" (PBS), "The Presidents" (PBS), "Rap Master Ronnie" (Show time). Castellino has written eight musicals and twelve revues; he has produced and directed countless special gatherings, civic celebrations and corporate events. Awards: Outer Critics Circle, Jefferson, Telly, LA Weekly, Drama-Logue. Nominations: Lortel, Carbonell.
David Hancock Turner (Music Director) is a composer and music director working in musical theater. Most recently, his musical The World Will Not Contain Us (written with playwright Christopher Shinn) was presented in a reading by The New Group in December 2016. His original children's musical Cinderella-A Fairy's Tale has had productions at the Summer Theater of New Canaan over the past two years. He is an active pianist and music director with credits that include several City Center Encores! productions (Irma La Douce, Zorba!, Do I Hear a Waltz?), Passion at CSC, and many seasons at the Summer Theater of New Canaan. His collection of songs and sounds have been presented at venues in New York City and beyond as diverse as Ars Nova, Anthology Film Archives, IRT Theater, New Dramatists, The Living Room, The Clurman Theater at Theater Row, The Brick Theater in Williamsburg, The Fort Salem Theater, and the Ontological-Hysteric. He also teaches piano and coaches an eclectic variety of singers.