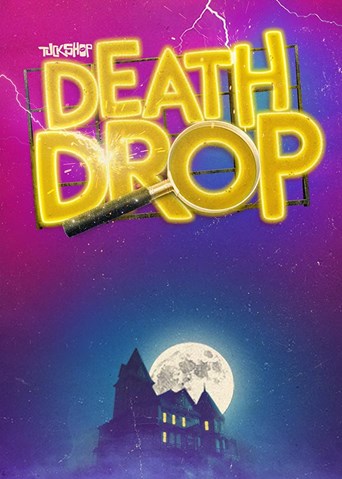 DEATH DROP
DIRECT FROM LONDON, COMING TO SLAY NEW YORK!

THE HILARIOUS SMASH HIT
ALL DRAG MURDER MYSTERY 
WRITTEN BY HOLLY STARS
BASED ON AN IDEA BY CHRISTOPHER D. CLEGG
DIRECTED BY JESSE JONES
OPENING JULY 13, 2023 AT NEW WORLD STAGES
PREVIEWS BEGIN JUNE 30, 2023


(New York, NY – April 20, 2023) - Following rave reviews, three sold-out runs in London's West End and a smash hit UK tour, Death Drop, the fabulous killer comedy starring some of the drag world's biggest stars, is ready for the ultimate runway ... New York City!

Death Drop, written by drag artist and comedian Holly Stars, based on an original idea by Christopher D. Clegg and directed by Jesse Jones, will play at New World Stages (340 West 50th Street) starting June 30, 2023, with an opening night on Thursday, July 13, 2023. 

The US premiere of Death Drop will star "RuPaul's Drag Race" royalty Jujubee as Summer Raines and Willam as Shazza, Shuga Cain ("RuPaul's Drag Race," Seven Deadly Sins) as Lady Rosebud von Fistenberg, Peachez Iman Cummings ("Worst Cooks in America") as Morgan Pierce, Wang Newton (Sacred Wounds) as Phil Maker and Holly Stars (Death Drop, "Holly Stars: Inspirational") as the Bottomly Sisters. Kiki Ball-Change ("The Wendy Williams Show," "Real Housewives of New York") will serve as understudy. Additional casting will be announced soon.
"You've been expecting me?" asks Jujubee. "It's truly a dream come true to get to perform this show in New York, and with so many queens I know and love."
"I have gone legit at last!" said Willam. "I had an absolute blast performing in Death Drop in London, so I'm truly excited to get the chance to create this role in the New York premiere."
"To bring Death Drop, our much loved, hilarious, stupid, all-drag comedy, to New York is truly an honor," commented creator and producer Chris Clegg of TuckShop. "Death Drop was the first play to re-open the West End after the shutdown, followed by two more London runs, a UK tour, and even a sequel. As a producer, you long to create work that resonates with people, and this show does that while showcasing the incredible art form of drag in a way not often seen on the stage. At a time in the US when drag is being used as a political tool and a distraction technique, we must work even harder to keep shining bright. We cannot wait to make our home at New World Stages and show that drag is not going anywhere."

It's 1991 and a gaggle of guests gather on Tuck Island for a soirée like no other. The tension rises as the outrageous guests reveal their suspicious and sordid pasts, and one by one they sashay away, until at the last, nerve-shredding, side-splitting moment the surviving guests find out who-dunnit!
Scenic designer is Justin Williams. Costume designer is Isobel Pellow. Lighting designer is Jack Weir. Sound designer is Beth Duke. Wig designer is Florencia Melone. Alex Wyse and Wesley Taylor (Summoning Sylvia) will serve as Dramaturgs. Composers are Nicola Dempsey and Rosie Dempsey. Vocal Supervisor is Jacob Yates.
Production Manager is Tinc Productions. General Management is by KGM Theatrical.
Death Drop will be produced by TuckShop, Tom Smedes, Heather Shields, Peter Stern, Bruce Robert Harris and Jack W. Batman, Andres Martinez, Marc David Levine, Scott Johnson, M&E Productions, Bryan McCaffrey, Kyle Valentine and Michael McCrary. Cody Lassen serves as Executive Producer.
Death Drop was originally produced in London by TuckShop and Trafalgar Entertainment.
# # #
BIOGRAPHIES
Jujubee (Summer Raines) is best known for their appearances and being a top 3 finalist on World of Wonder's "RuPaul's Drag Race Season 2," "RuPaul's Drag Race All Stars" seasons 1 and 5, BBC's "RuPaul's Drag Race UK vs The World," appearing in the Netflix's original "AJ and the Queen" and competing on Paramount Plus' "Queen of the Universe." They have two EPs. "Good Juju: Vol 1," ranked #7 on the iTunes Singer/Songwriter Album Chart and "Good Juju: Vol 2," which peaked at #1. Juju rediscovered their love of live theatre with their critically acclaimed performance of Summer Raines in Death Drop in London's West End. Juju starred in Cinderella at North Shore Music Theatre, released "Queen of Hearts", a podcast where as host she helps heart-torn strangers find love, and played The Tigress in DRAG: The Musical at The Bourbon Room in Hollywood! She's back as Summer and ready to take her reign.
Willam (Shazza) is an actor (A Star is Born), podcaster (Race Chaser & Hot Goss), author (Suck Less: Where There's a Willam, There's a Way) and wig-wearing YouTuber who wrote the bottoming national anthem ("This Boy Is A Bottom") after being disqualified on "RuPaul's Drag Race" a decade ago. Willam lost two Emmys for his work on Netflix's "Eastsiders," but at least his album Shartistry in Motion debuted at #1 on the Billboard Comedy charts. Oh, and there's this documentary about the rise and fall of his second girl group Access All Areas: the AAA Girls Tour, now available anywhere you got wifi. If you really like him, you can find him @willam on IG/Twitter. THANK YOU FOR SUPPORTING DRAG, WHOEVER IS READING THIS!
Shuga Cain (Lady Rosebud von Fistenberg) is an international drag sensation and fan favorite from Season 11 of the Emmy Award-winning reality TV series, "RuPaul's Drag Race." Shuga Cain is also the stage name of Jesus Martinez Jr from New York, an actor and classically trained vocalist with a master's degree in voice from DePaul University in Chicago. They have appeared in numerous campaigns from Pepsi to MAC Cosmetics, toured the globe gagging the children, and are now setting their sights on giving the NYC theater scene a Shuga high! In her free time, you can find Shuga not only serving cakes, but in the kitchen baking them. An avid baker, she is the host of Gimme Some Shuga, her own baking show on WOWPresents Plus.
Kiki Ball-Change (Understudy). Off-Broadway debut! An actor, comedian, and award-winning cabaret artist, Kiki is known as "The Broadway Bimbo of NYC." A graduate of the University of Central Florida with a BFA in Musical Theater, Kiki has over two decades of theatrical experience and has performed in bars, clubs, and regional theatres all over the country. She's also been featured on "The Wendy Williams Show" (three times) and "Real Housewives of New York." @kikiballchange
Peachez Iman Cummings (Morgan Pierce) is NYC's Juiciest rising star. Coming off her legendary win on Food Network's "Worst Cooks in America," and as the drag daughter of both renowned activist and drag legend, Marti Gould Cummings, and Broadway's Taylor Iman Jones, Peachez is focused on using her platform to highlight Black queens in the city's seemingly monochromatic nightlife scene. Peachez is a graduate of The Pacific Conservatory of the Performing Arts (Pacific Conservatory Theater).
Wang Newton (Phil Maker). "Dr. Wang" Newton is a Taiwanese-born American performance artist and producer specializing in the art of masculine drag. After 18 years of performing, Wang is considered a prominent drag king (a top ten in the world). Wang's fun and irreverent 'Taipei' personality has placed them speaking engagements at Harvard and UPenn, Bubly sparkling water commercial, Amazon Prime's Pride project, DRAGS and Glitter and Concrete books, and a New York Times drag king feature article. The past two decades have honed Dr. Wang's producer chops with shows like Kong, a King Sized Drag Show, and the acclaimed Sacred Wounds, a healing-focused celebration of the Asian Diaspora. Expanding from nightlife and into acting, Dr. Wang is set to co-star in the upcoming US version of the UK hit play Death Drop and Taiwanese short film series Fanteasia. Currently Wang is also one of the few drag kings with a pop track on iTunes entitled, Oh, Hey Baby. Wang enjoys splitting residence between New York City and Los Angeles.
Holly Stars (The Bottomly Sisters/Playwright) is a writer, stand-up comedian and one of the UK's hottest drag talents. She is the writer and star of the murder mystery play Death Drop, a huge hit with three West End runs and a sold-out UK tour. She is also the star and co-creator of the OutTV series "Holly Stars: Inspirational." "A spitfire of a host," Attitude Magazine. "Didn't stop laughing for the whole show," Gay Times.

Christopher D. Clegg (Concept, Producer). Getting his start as the West End's youngest theatre manager at 25, Chris has gone on to become an integral part of the UK theatre scene, recently being voted one of the "Top 100 Theatre-Makers" in the country by The Stage. Chris founded the drag production company TuckShop in 2018, producing shows such as Gals Aloud, Death Drop, Cinderella, Dick Whittington, TuckShop West End, and more. TuckShop, as well as producing larger theatre productions, keeps one foot in the drag community, running club and drag nights, competitions, and providing merch for some of the UK's biggest drag stars. Other productions: Zelda, Cool Rider, Betwixt! starring Ellen Greene, Miranda Sings!, Shoshana Bean in the West End, Homemade Fusion, Wolfboy, Zombie Prom. Christopher also acted as General Manager for the annual WhatsOnStage Awards, was Events Manager of TheatreMAD and Head of Marketing for Bill Kenwright Ltd.
Jesse Jones (Director) has recently been announced as Artistic Director at Royal & Derngate, Northampton. He is a founding member of multi award-winning company The Wardrobe Ensemble and was previously Associate Artistic Director at Paines Plough. Jesse is the originating director of both the original Death Drop and its sequel Death Drop: Back in the Habit on the West End and on tour. A selection of other directing credits include Education Education Education in the West End, MOG the Forgetful Cat for The Old Vic and on tour, The Last of the Pelican Daughters in co-production with Complicitie, and the world premiere musical adaptation of Pippi Longstocking for the Royal & Derngate and Wizard presents.

TuckShop (Producer). In the last two years, TuckShop has ingrained itself as a fundamental part of the West End, bringing drag to the mainstream like never before. With the huge rise in the popularity of drag and coming hot off the heels of founder Christopher Clegg's fifteen years' experience in the West End as a producer, theatre manager, and marketing expert, TuckShop is at the forefront of UK Drag culture. Their critically acclaimed comedy Death Drop was the first all drag spectacular in a West End playhouse. After three sold-out engagements, the production's success prompted a sequel, Death Drop: Back in the Habit, which also played a successful West End run prior to embarking on a UK tour. This in addition to their drag pantomimes Cinderella and Dick Whittington and their 2021 summer Drag Festival at the Garrick Theatre, which featured a myriad of performers from all over the world, has made TuckShop the sole mainstream West End producer to work exclusively with drag artists. Additionally, TuckShop has toured their smash hit Gals Aloud show across the UK and branched out into broadcast media with shows such as "Holly Stars: Inspirational," now on Amazon Prime and OutTv. Their Sickening 90s Drag Prom, which creates a new interactive experience for audiences, played at the Underbelly Festival and the Edinburgh Fringe and last Christmas they produced the European premiere of Matthew Lombardo's Who's Holiday!, starring Drag Race's Miz Cracker at the Southwark Playhouse. All of this solidifying TuckShop at the beating, glittery heart of an industry that continues to explode!
Tom Smedes, Heather Shields, and Peter Stern (Producers).  The award-winning producing team of Tom Smedes, Heather Shields, and Peter Stern have dozens of producing and general management credits to their names. Current producing projects: Peter Pan Goes Wrong; Cabaret (Olivier); BATSU! Recent: A Christmas Carol (5 Tony Awards); Bandstand; The Prom; Farinelli and the King; Pippin (Tony), Puffs… Upcoming: The Sign in Sidney Brustein's Window and Bruce. tomsmedes.com
Bruce Robert Harris and Jack W. Batman (Producers) are Tony Award-winning producers who have presented over 60 new plays, musicals, and classic revivals, particularly for Broadway and the West End. Their productions have received hundreds of accolades including Tony, Olivier, London Critics' Circle, London Evening Standard, Drama Desk, Outer Critics Circle, Drama League, Los Angeles Critics Circle and Grammy Awards and nominations. They are currently producing the new Broadway musical New York, New York. sunnyspotproductions.com
Cody Lassen (Executive Producer). A Tony Award-winning and Grammy-nominated theatre producer and live entertainment consultant, Cody was most recently represented on Broadway by Paula Vogel's How I Learned To Drive, Indecent, and the Deaf West revival of Spring Awakening. His most recent Off-Broadway productions include A Commercial Jingle for Regina Comet, and Hyprov, starring Colin Mochrie. He produced the feature film Summoning Sylvia, now streaming everywhere. Upcoming productions include The 12, written by Robert Schenkkan and directed by John Doyle, opening at Goodspeed this fall.