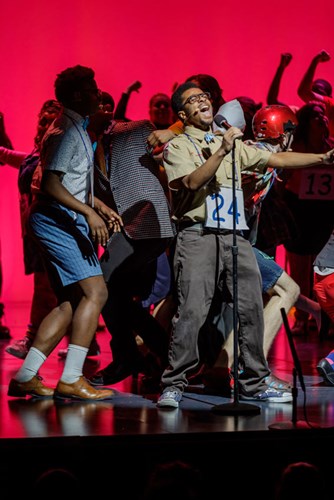 Christopher Sieber, Joe Iconis, Lauren Ridloff, and More Present at the Shubert Foundation's 5th Annual High School Theatre Festival!
by Monroe George
March 19, 2019



One hundred and fifty talented NYC public school students made their Broadway debuts when the 5th annual SHUBERT FOUNDATION HIGH SCHOOL THEATRE FESTIVAL for NYC Public Schools took place on Monday, March 18 at the Music Box Theatre. We've got an inside look at the evening below!
Hosting the event was Broadway star Christopher Sieber, who is currently appearing in the new hit Broadway musical, The Prom. He was joined by fellow Broadway stars: Lisa Brescia (Dear Evan Hansen), Joe Iconis (Be More Chill), (Isabelle McCalla (The Prom), Tony Award winner Tonya Pinkins (original star of Caroline, Or Change), and Tony nominee Lauren Ridloff (Children of a Lesser God).
The High School Theatre Festival showcased the ongoing excellent theatre work currently taking place in NYC public high schools while highlighting the positive effects of theatre study on skills for the stage and in life: collaboration, artistry, discipline, focus, literacy, student voice, self-awareness, presence, active listening and empathy. The evening focused on the impact that a full theatre program can have on students and school communities, and enabled students to see theatre and the arts as a potential career path.

VIEW PHOTO COVERAGE