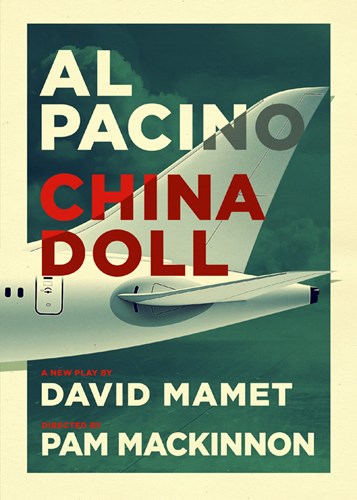 DAVID MAMET'S NEW PLAY
CHINA DOLL STARRING
TONY AND ACADEMY AWARD-WINNER
AL PACINO ANNOUNCES OPENING NIGHT SWEEPSTAKES 
The producers of David Mamet's new play CHINA DOLL, which stars Academy Award-winner Al Pacino under the direction of Tony Award-winner Pam MacKinnon (The Heidi Chronicles, Edward Albee's Who's Afraid of Virginia Woolf?), are thrilled to announce the CHINA DOLL Opening Night Sweepstakes.
 
The grand prizewinner will receive an opening night package that includes:
Two opening night tickets and party passes to CHINA DOLL on Broadway.
A two night stay for two adults at The Kimberly Hotel in a luxury one-bedroom suite. Valid for the nights of November 18 and 19, 2015.
Pre-theater dinner for two with Wine Pairings at Becco.
Ten additional winners will receive exclusive CHINA DOLL on Broadway merchandise.
 
Starting Tuesday, September 15, 2015, contestants can enter China Doll's Opening Night Sweepstakes by visiting the show's Facebook page at www.facebook.com/ChinaDollBwy or by visiting www.ChinaDollBroadway.com/sweepstakes/ and signing in with either their Facebook or Twitter account. For every action contestants take, they earn additional entries into the sweepstakes. The sweepstakes will remain opening until Sunday, November 1, 2015, and the winners will be announced on Saturday, November 7, 2015.
 
For official sweepstakes rules and more information on how to enter visit www.ChinaDollBroadway.com/sweepstakes/.
 
CHINA DOLL will begin previews starting Wednesday, October 21, 2015, at the Gerald Schoenfeld Theatre, with an opening night set for Thursday, November 19, 2015.
Tickets for CHINA DOLL are also available for purchase online at www.telecharge.com, or by calling (212) 239-6200.
-----
 
David Mamet is the Pulitzer Prize-winning author of Glengarry Glen Ross. His other plays include Race, Oleanna, American Buffalo, Speed-the-Plow, November and Sexual Perversity in Chicago among others. Earlier this year, Mr. Mamet was represented on the West End by a production of American Buffalo starring Damian Lewis, John Goodman, and Tom Sturridge, at the Wyndham Theatre.

Al Pacino, who was last seen on Broadway portraying the role of Shelly Levene in Mamet's acclaimed Pulitzer Prize-winning drama Glengarry Glen Ross and recently as Phil Spector in the HBO film written by David Mamet, is a two-time Tony Award winner who also starred in the 1983 revival of American Buffalo. He is an Academy Award winner, four-time Golden Globe winner, and two-time Emmy Award winner. CHINA DOLL will mark his twelfth time appearing on Broadway, including The Merchant of Venice, Salomé, Hughie, The Basic Training of Pavlo Hummel, Camino Real, and Does a Tiger Wear a Necktie among others.

Mr. Pacino is joined on stage by actor Christopher Denham, who costarred on Broadway in "Master Harold"... and the boys opposite Danny Glover and The Lieutenant of Inishmore, as well as in Roundabout Theater Company's The Unavoidable Disappearance of Tom Durin and Playwright's Horizons's Kindness. Denham also appeared on screen in films such as the 2013 Academy Award-winning Best Picture Argo starring Ben Affleck, and Shutter Island starring Leonardo DiCaprio.

CHINA DOLL will mark the tenth presentation of a David Mamet work by Jeffrey Richards, Jerry Frankel, and Steve Traxler on Broadway and the West End.

The creative team will include scenic design by Tony Award winner Derek McLane (33 Variations, Beautiful The Carol King Musical), costume design by Tony Award winner Jess Goldstein (The Rivals, Jersey Boys), and lighting design by Russell H. Champa (In the Next Room (or the vibrator play)). The show was cast by Telsey + Company and Bialy/Thomas Associates.
 
About The Kimberly Hotel

The Kimberly Hotel is a European-style boutique hotel, offering gracious hospitality, timeless elegance and a renowned location in the heart of midtown's fashionable East Side. A member of WORLDHOTELS Deluxe Collection, the Kimberly Hotel offers 192 spacious guestrooms including luxurious one and two-bedroom suites highlighted by private balconies and wet bars. On-site restaurants include the new Bistango restaurant, home to the second branch of this contemporary Italian-eatery group. The menu features items from the original location as well as flatbreads, pastas, gluten free options and much more. The hotel is also home to a new dining experience, Ibis, featuring an extensive menu of Mediterranean inspired dishes. Outfitted with an ornate winding staircase and a cathedral dome ceiling, the charm and elegance of the restaurant reclaims a historic Manhattan destination sure to thrill all those who experience its richness. Hotel facilities include newly designed meeting and private event spaces, an on-site fitness center, and 'Upstairs,' the 3,000 square-foot rooftop bar offering spectacular 360-degree views of Manhattan.  Complimentary access to New York Health & Racquet Club's fitness facilities and seasonal private yacht sails further heighten the guest experience.  The Kimberly Hotel is located at 145 East 50th Street in New York City. For more information and reservations, visit www.kimberlyhotel.com or call (800) 683-0400. For additional details, connect with The Kimberly Hotel via Facebook at www.facebook.com/kimberlyhotel, via YouTube at The Kimberly Hotel or on Twitter @kimberlyhotel
 
About Becco
 
The name Becco is derived from the Italian verb, beccare, which means to peck, nibble or savor something in a discriminating way. Lidia Bastianich & her son, Joe, opened Becco in 1993 & since then, it has been providing the New York community with outstanding service for over 20 years. Located on New York's famed Restaurant Row in the heart of the theater district, Becco is open 7 days a week for both lunch & dinner. Becco is most famous for its innovative pasta tasting menu & extensive $29 wine list.