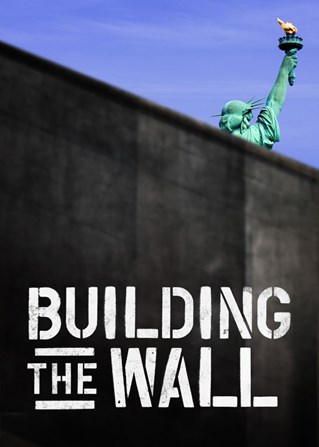 BUILDING THE WALL
THE NEW PLAY BY ROBERT SCHENKKAN
TO PREMIERE IN NYC STARRING 
TAMARA TUNIE & JAMES BADGE DALE
DIRECTED BY ARI EDELSON
PREVIEWS BEGIN FRIDAY, MAY 12TH; OPENS SUNDAY, MAY 21ST
NEW WORLD STAGES
LIMITED ENGAGEMENT

(New York, NY) BUILDING THE WALL, the new play by Pulitzer and Tony® winner Robert Schenkkan (All The Way, Hacksaw Ridge – Academy Award® nom. The Kentucky Cycle), will make its New York premiere beginning performances on Friday, May 12th at 8:00 pm and opening on Sunday, May 21st at 7:00 pm at New World Stages (340 West 50th St.) for a strictly limited engagement through July 9th 2017. 
 
The two-person political suspense thriller will feature two stars of the screen and stage: Tamara Tunie  (Julius Caesar, "Law & Order: SVU", The Devil's Advocate) and James Badge Dale (Small Engine Repair, The Pacific, "Rubicon", The Departed) and will be directed by Ari Edelson (Artistic Director of the Exchange; Little Black Dress, Expats). The design team will be announced at a later date.

From America's greatest political playwright, Pulitzer & Tony winner and Academy Award nominee Robert Schenkkan, comes a provocative 90-minute theatrical event set in the near future and deals with one of the most talked about topics of this past election. In a time when campaign rhetoric turns into real policies, BUILDING THE WALL reveals the power of theater to question who we are and where we might be going. 
 
In an interview with Michael Paulson from The New York Times for a February 5th article, Schenkkan said: "I wrote this in a white-hot fury. We no longer live in a world that is business as usual — Trump has made that very clear — and if theater is going to remain relevant, we must become faster to respond. We cannot hope to be useful if we can't respond until 18 months after the fact.  It is not a crazy or extreme fantasy. It's very solidly grounded in current American law, and Trump's rhetoric, and his most recent executive orders."
 
The play is produced by Jeffrey Richards, Rebecca Gold, Louise Gund, Ted Snowdon, Stephanie P. McClelland, Scott M. Delman, Barbara Freitag & Will Trice.  
 
BIOS
TAMARA TUNIE most recently starred in Barrington Stage Company's World Premiere of Christopher Demos-Brown's American Son (winner of the prestigious Laurents/Hatcher Foundation Award for Best New Play of 2016). Tunie was awarded the First Annual Berkshire Theatre Awards, Outstanding Performance by a Female Actor – Large Theatre for her performance.  Early 2016, she starred as Marvelous Chinyaramwira in Familiar, for which she earned an Obie Award.  For two seasons, she starred on Sundance TV original series The Red Road and is best known for her role as Medical Examiner Melinda Warner for 16 seasons on the NBC drama Law & Order: Special Victims Unit.  Other TV credits: Blue Bloods, Better Call Saul, Alpha House, Billions, Days of Our Lives, Survivor's Remorse, Elementary, Zoo, Chicago Fire, 24, As the World Turns.  Film credits: Flight, The Devil's Advocate, City Hall, See You in September, The Caveman's Valentine.  Broadway producer of productions Magic/Bird, August Wilson's Radio Golf (2007 TONY and Drama Desk Award Nominee for Best Play), and Spring Awakening (winner of the 2007 TONY Award for Best Musical and the 2007 Drama Desk Award for Outstanding Musical).
 
JAMES BADGE DALE, one of Hollywood's most respected actors, has built an impressive resume playing a variety of roles that show off his remarkable range as an actor. Within the past year he filmed four films: Joseph Kosinski's Granite Mountain based on the true story of the dedicated firefighters who fought the Yarnell Hill fire in 2013, the lead role in Fox Studios' adaptation of Boom comic book The Empty Man, the Netflix Hold The Dark opposite Jeffrey Wright and directed by Jeremy Saulnier and, lastly, Litte Woods developed at the Sundance Labs by young director Nia DaCosta starring Tessa Thompson and Lily James. He was also seen in two pictures based on true stories; Paramount's Thirteen Hours directed by Michael Bay and Sony Pictures' The Walk directed by Robert Zemeckis in which he played the flamboyant French character, 'Jean-Pierre' and friend of high wire artist, 'Phillippe Petit'.  The Walk was the second time he worked with Zemeckis with the first being Paramount's Flight with Denzel Washington in which he transformed himself losing 20 lbs to play a cancer victim.  He also worked twice with his friend, Joe Carnahan; first in The Grey opposite Liam Neeson and then again in the Netflix action-comedy release Stretch.  Highly recognized for terrorizing Robert Downey, Jr.  in Shane Black's Ironman 3 in which he played  the infamous Villain "Eric Savin", to fighting zombies with Brad Pitt In Marc Forster's World War Z, and then for transporting back to 1869 in Bruckheimer/Disney's The Lone Ranger directed by Gore Verbinski. In Peter Landesman's Parkland he received rave reviews for playing Robert Oswald, brother to Lee Harvey and impressed in Steve McQueen's Shame opposite Michael Fassbender and Carey Mulligan, as duplicity mole, 'Barrigan' in Martin Scorcese's academy award winning The Departed and as politician 'William Hamilton' in Robert Redford's The Conspirator. His most recognized role in television was his lead performance as 'Robert Leckie' in the Emmy and Peabody awarded HBO's epic miniseries The Pacific, executive produced by Tom Hanks, Steven Spielberg and Gary Goetzman. Dale starred in AMC's critically acclaimed series "Rubicon" and is also remembered as 'Chase Edmunds', Kiefer Sutherland's younger partner in the hit television series "24". Dale is the son of late Broadway, film and television star Anita Morris and two-time Tony Award-winning Director/Choreographer, Grover Dale. He followed his parents onto the stage making his Off Broadway debut in 2003 with The Flea Theatre Company.  Between film and television work, he has returned to the New York stage to work with The New Group, New World Stages, and starred in the MCC Theatre's New York Premiere of John Pollono's celebrated Small Engine Repair, directed by the highly respected Jo Bonney.

ROBERT SCHENKKAN (Playwright).  In 2014, All The Way, Part One of his "LBJ Plays," won the Tony, Drama Desk, Outer Critics, Drama League, Kennedy Prize, and the ATCA/Steinberg Awards for Best Play and broke two Broadway box office records. Robert has since adapted All The Way as a feature film for HBO, produced by Steven Spielberg and starring Bryan Cranston. Robert's previous Broadway experience was the Pulitzer Prize-winning epic, The Kentucky Cycle, which also won the LA Drama Critics Award, and was nominated for the Tony, Drama Desk, and the Outer Critics' Circle Awards. Other plays include Hanussen (2017 Denver Summit Theater Festival), Shadowplay, Lewis and Clark Reach the Euphrates, By the Rivers of Babylon, Handler, The Marriage of Miss Hollywood and King Neptune, Heaven on Earth, Tachinoki, Final Passages, The Devil and Daniel Webster, The Dream Thief, A Single Shard, and The Great Society, Part Two of the LBJ Plays, anticipated in New York in 2018. His musical, The Twelve, had its world premiere in Denver in 2015 and won the Henry Award for Best New Play/Musical.  Films: Hacksaw Ridge (2016. Nominated for 6 Academy Awards); The Quiet American. Television: Robert was nominated for two Emmys and won a WGA Award for his work on the HBO/Tom Hanks/Steven Spielberg miniseries, The Pacific. Other television work includes: The Andromeda Strain, Crazy Horse, and Spartacus.
 
ARI EDELSON (Director) is a director and producer who has worked both in the US and internationally, with recent credits including: Little Black Dress (Boston Playwrights, Eliot Norton Award), Mauritius (Dorset Theatre Festival), The Scariest (Theatres at 45 Bleecker),Vengeance (Cherry Lane), Expats (The New Group, NY), Jump! and Realism (The Exchange, NY), The Attic (Play Company, NY, Obie Award), The Atheist (Theatre 503, London), Blood Wedding, Who's Afraid of Virginia Woolf? And Sexual Perversity in Chicago (Theatre Project Tokyo), True West and Tape (Tokyo Globe), Rape of Lucretia (English National Opera, London and Luxembourg). He has been on the artistic staff of London's Old Vic Theater, The English National Opera, and Theatre Project Tokyo, and worked with companies such as La Jolla Playhouse, Long Wharf, the Old Vic, Circle in the Square, the Royal National Theatre, Theatre Royal Haymarket, The Vineyard, The New Group and the Westport Country Playhouse. Ari is currently the Artistic Director of the Off-Broadway theatre company The Exchange, which produces new work in New York and runs the internationally renowned Orchard Project development center. He has been a guest director on attachment at New Dramatists, The National Theatre Studio, a Directing Fellow of the Drama League of New York, and has taught at Northwestern University, Fordham University and in Japan.