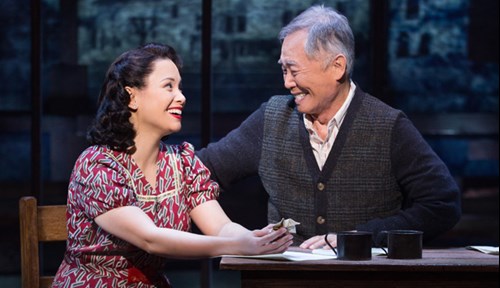 Broadway's ALLEGIANCE Announces Final Performances
Must Close February 14, 2016

Impact of Acclaimed Musical
To Continue on in Future Projects
New York, NY – Sing Out, Louise! Productions and ATA have announced that the new American musical Allegiance will play its final performance on Broadway on Sunday, February 14, 2016. Performances began at the Longacre Theatre (220 West 48th Street) on October 6, 2015 and the production officially opened on November 8, 2015. At the time of its closing it will have played 37 previews and 113 regular performances. Producers also announced a national tour and international productions are in the works. Allegiance had its world premiere in a record-breaking engagement at the Old Globe Theatre in San Diego in 2012. For more information, visit www.AllegianceMusical.com.

In a statement, producers for Allegiance said: "Bringing Allegiance to Broadway was not only a labor of love for our entire creative team and this company of extraordinary artists, but it was also a work with deep commitment to social relevance and impact. We are so proud to have brought George Takei's very personal family history to the stage and – in the process – to have surfaced a chapter of history that was painfully unknown to so many. By its last performance Allegiance will have been seen on Broadway by approximately 120,000 people, a number that eerily echoes the number of Japanese Americans who were directly impacted by the events that inspired our musical, and whose rights were trampled in the name of pure fear and intolerance. We look forward to continuing to share this essential story — more relevant than ever, given today's headlines — and this moving score with theatergoers across the country and around the world for many years to come. Audiences who have experienced Allegiance on Broadway have left the theater transformed, uplifted, enlightened, inspired, informed, and entertained. We remain committed to finding more ways in which the true impact of Allegiance will continue."

It was also recently announced that Allegiance has been preserved with a Broadway cast recording produced by Lynne Shankel & Joel Moss and distributed by Broadway Records / Yellow Sound. The album is scheduled to be released worldwide on February 5, 2016, and is available for presale at BroadwayRecords.com.

Allegiance stars Tony® and Olivier® award winner Lea Salonga (Miss Saigon, Les Miserables) in her long-awaited return to Broadway joined by "Star Trek" icon George Takei in his Broadway debut at age 78, and Broadway and "Glee" star Telly Leung. Allegiance is the vibrant and unforgettable story of one family's resilience in the face of seemingly-insurmountable odds, inspired by Takei's real-life experience as a Japanese American during World War II.

Allegiance features a book by Marc Acito, Jay Kuo, and Lorenzo Thione with music and lyrics by Jay Kuo. Olivier Award® nominee Stafford Arima directs, in his Broadway debut. Andrew Palermo serves as choreographer.

The cast is as follows: George Takei as Sam Kimura/Ojii Chan; Lea Salonga as Kei Kimura; Telly Leung as Sammy Kimura; Katie Rose Clarke as Hannah Campbell; Michael K. Lee as Frankie Suzuki; Christópheren Nomura as Tatsuo Kimura; and Greg Watanabe as Mike Masaoka. The ensemble features Aaron J. Albano, Belinda Allyn, Marcus Choi, Janelle Toyomi Dote, Dan Horn, Owen Johnston II, Darren Lee, Kevin Munhall, Manna Nichols, Rumi Oyama, Shea Renne, Catherine Ricafort, Momoko Sugai, Sam Tanabe, Elena Wang, Scott Watanabe and Tony Award® winner Scott Wise.

Allegiance illuminates one of American history's lesser known chapters as it tells the story of Sam Kimura (Takei), transported back nearly six decades to when his younger self (Leung) and his sister Kei (Salonga) fought to stay connected to their heritage, their family, and themselves after Japanese Americans were wrongfully imprisoned during World War II. An important story told with great resonance and intimacy, Allegiance explores the ties that bind us, the struggle to persevere, and the overwhelming power of forgiveness and, most especially, love.

Allegiance teamed with Facebook to exclusively roll out the new docuseries ALLEGIANCE: Trek to Broadway, which chronicles the musical's journey to Broadway. To view all nine episodes of the docuseries, visit: http://trektobroadway.com/

Lynne Shankel is musical supervisor and also provided arrangements and orchestrations. Laura Bergquist serves as musical director. Scenic design is by Tony Award® winner Donyale Werle, costume design by Tony Award® nominee Alejo Vietti, lighting design by Tony Award® winner Howell Binkley, sound design by Tony Award® nominee Kai Harada and hair and wig design by Charles G. LaPointe. Projection design is by Darrel Maloney. Casting by Telsey + Company/Craig Burns, C.S.A.

Allegiance is produced on Broadway by Sing Out, Louise! Productions and ATA with Mark Mugiishi/Hawaii HUI, Hunter Arnold, Ken Davenport, Elliott Masie, Sandi Moran, Mabuhay Productions, Barbara Freitag/Eric & Marsi Gardiner, Valiant Ventures, Wendy Gillespie, David Hiatt Kraft, Norm & Diane Blumenthal, M. Bradley Calobrace, Karen Tanz, Gregory Rae/Mike Karns in association with Jas Grewal, Peter Landin and Rob Polson.