Jujamcyn Executive Vice President Paul Libin and
Shubert Organization President Robert E. Wankel
Are Co-Chairs of
BROADWAY BETS!

FIRST ANNUAL EVENT TO BE PRODUCED BY AND BENEFIT
BROADWAY CARES/EQUITY FIGHTS AIDS
MONDAY, MAY 18, 2015
AT SARDI'S (234 WEST 44TH STREET)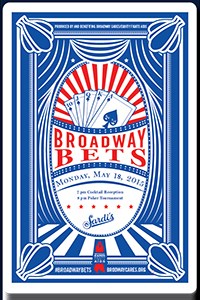 It's time to "shuffle up and deal" for Broadway Cares/Equity Fights AIDS with Broadway Bets!, a first-of-its-kind Broadway poker tournament co-chaired by Paul Libin, executive vice president of Jujamcyn Theaters, and Robert E. Wankel, president and co-CEO of The Shubert Organization. Libin is president of BC/EFA's Board of Trustees and Wankel is a longtime trustee.
Whether you're a first-time player or a poker ace, everybody can play and anyone can win. The evening is produced by and benefits Broadway Cares/Equity Fights AIDS.
Played as a Texas Hold 'em tournament, Broadway Bets (#broadwaybets) will welcome an array of industry insiders and theatre fans all competing against each other to be the last player standing and first Broadway Bets champion. Prizes will be awarded for top players. Foxwoods Resort Casino will be the official tournament host of Broadway Bets with Micah Hollingworth of Jujamcyn Theaters and Mark Shacket of Foresight Theatrical serving as the tournament directors.
Taking over the famed Sardi's restaurant (234 West 44th Street, NYC), Broadway Bets will be a refined but casual evening of friendly card play in the heart of New York's theatre district. Doors open at 6:30 pm; tournament play begins at 7:30 pm. Tickets are available now at broadwaycares.org.
"It's always exciting when members of our theatre community find new and unique ways to support such an important organization," Libin and Wankel said. "We're excited to step up to the table with many of our friends and look forward to meeting new players helping to make a difference for so many. The big winner of the night will be Broadway Cares/Equity Fights AIDS."
Texas Hold'em-style tournaments begin with each player receiving an equal amount of chips. Two blinds are posted per hand to force the action. As play progresses, the amount of the blind bets increase. As players drop out, tables are combined until there is one final table of players competing for the championship title.
For those not quite ready to go "all in," Broadway Bets guest passes will be available to observe the poker table action. Guests also will be able to play other casino games with an opportunity to win prizes. All prizes will be announced this spring.
Broadway Cares/Equity Fights AIDS is one of the nation's leading industry-based, nonprofit AIDS fundraising and grant-making organizations. By drawing upon the talents, resources, and generosity of the American theatre community, since 1988 BC/EFA has raised more than $250 million for essential services for people with AIDS and other critical illnesses across the United States.
Broadway Cares awards annual grants to more than 450 AIDS and family service organizations in all 50 states and is the major supporter of the social service programs at The Actors Fund, including the HIV/AIDS Initiative, the Phyllis Newman Women's Health Initiative and the Al Hirschfeld Free Health Clinic.
For more information, please visit Broadway Cares online at broadwaycares.org, at facebook.com/BCEFA, at twitter.com/BCEFA, at youtube.com/BCEFAtvand at instagram.com/BCEFA.