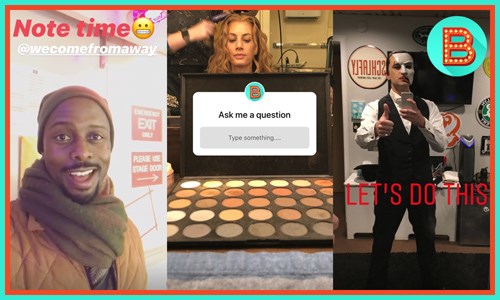 @Broadway: A New Home on Instagram
Broadway Briefing
January 30, 2019
Sometimes it's hard to imagine Broadway's three-dozen-plus plays and musicals all joining together to sing the same tune. What a pretty picture that would be!

So you can imagine our excitement when the Broadway League announced they're developing a new social channel, in collaboration with current Broadway shows, that will be the official Broadway destination on Instagram.

The new @Broadway channel is the first-ever industry-wide collaboration involving all of the current Broadway digital agencies, providing a curated stream of compelling content. The Instagram channel has already been ramping up with engaging Broadway photography—both behind-the-scenes and production shots.

This week's BroadwayCon will be a "Coming Out Party" for @Broadway that will feature a roving selfie-photographer, exclusive giveaways, and the chance to be featured on the channel. Going forward, the League and agencies will continue to partner running the channel, featuring weekly takeovers by Broadway and Touring Broadway talent.

In addition, the industry will be pushing #ThisIsBroadway as the official hashtag of Broadway for fans around the world to use on their own content, allowing them to connect with the global Broadway community.

The Broadway League envisions this channel as Broadway's "official home" on Instagram where fans can consume Broadway content and engage with the shows and performers they love.

Be sure to follow @Broadway yourself.
Broadway Briefing brings you a daily, curated roundup of top news headlines, box office reports, opening and closing announcements, and much more at a glance. There's even a daily planner so that you know which readings, concerts, and productions are playing around town. Get Broadway Briefing in the morning...and set the stage for a successful day.

www.broadwaybriefing.com