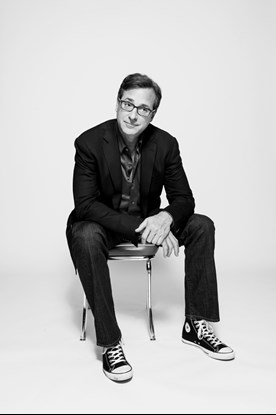 BOB SAGET
RETURNS TO BROADWAY
IN
TONY® NOMINATED
" H A N D T O G O D "
AS PASTOR GREG

BEGINS PERFORMANCES ON
NOVEMBER 3rd

"HAND TO GOD" MUST CLOSE ON BROADWAY
JANUARY 3rd

New York, NY (October 6, 2015) – Producer Kevin McCollum announced today that comedy and television icon Bob Saget will step into the role of 'Pastor Greg' in the Tony® Award-nominated comedy Hand to God beginning November 3, 2015 through the production's previously announced closing on January 3, 2016. Saget returns to Broadway after making his Broadway debut in 2007 in the Tony® winning musical The Drowsy Chaperone. He will join current Hand to God cast members Steven Boyer, Geneva Carr, Sarah Stiles, and Michael Oberholtzer. 3-time Tony® nominee Marc Kudisch, who originated the role of 'Pastor Greg', exits the production on November 1st to begin production on Baritones Unbound. Hand to God plays at the Booth Theatre (222 West 45th Street) through January 3, 2016 before immediately transferring to London's West End, with performances beginning on February 5, 2016 at the famed Vaudeville Theatre.

In a statement, Bob Saget said: "I've been wanting so much to come back to Broadway, especially if the material was just too good to resist. After seeing Hand to God with my daughters, I knew immediately that I'd pounce at the opportunity to be a part of it if I could. Didn't see it coming but beyond delighted. So looking forward to getting onstage with this miraculous cast in this incredibly funny and poignant play."

Saget steps into the role originated by 3-time Tony® Award nominee Marc Kudisch who exits the production to star in Baritones Unbound, a new play that he conceived and co-wrote which will be presented in Chicago at the Royal George Theatre. On his exit from the production, Kudisch said: "It's been an incredible journey to be a part of this amazing play, this amazing family—one of my proudest moments in the theatre—and I'm thankful to everyone involved for the experience. I'm leaving for the opportunity to give birth to my own creation, Baritones Unbound, which has been a passion for years."

Bob Saget is a Grammy-nominated stand-up comedian, actor, director and television host. It was his family-friendly roles as the loveable Danny Tanner on "Full House" and as the original host of "America's Funniest Home Videos" that made Saget a household name, but it is his edgy stand-up routines, comedy specials, and appearances in The Aristocrats and "Entourage" that solidified his reputation as a true original with an irreverent sense of humor and unique personality.

Saget starred in the critically acclaimed, Paul Weitz off-Broadway play, Privilege, his first book, Dirty Daddy (2014), is a New York Times Best Seller and his third one hour stand-up special, "That's What I'm Talkin' About," was nominated for a 2014 Grammy Award.

This fall, Saget will be seen in a guest starring role on the Fox series, "Grandfathered," and in 2016 he will be seen in the Netflix series, "Fuller House," and he continues touring performing stand-up to sold out audiences in theaters internationally.

Hand to God received five 2015 Tony® Award nominations including Best Play, Direction of a Play (Moritz von Stuelpnagel), Actor in a Leading Role in a Play (Steven Boyer), Actress in a Leading Role in a Play (Geneva Carr), and Actress in a Featured Role in a Play (Sarah Stiles).

Playwright Robert Askins goes for the jugular—by way of sock puppet—in his hilarious and heartbreaking new comedy Hand to God. In it, a shy teenager named Jason is surprised when his Bible School project—a puppet named Tyrone—takes on a shocking, truth-telling personality all its own, forcing everyone in its path, especially Jason's mother Margery, to confront their own demons as they search for redemption through a mix of riotous laughter and genuinely shocking twists. Moritz von Stuelpnagel directs.

The design team for Hand to God includes scenic design by Beowulf Boritt, costumes by Sydney Maresca, lighting by Jason Lyons, sound by Jill BC Du Boff, puppet design by Marte Johanne Ekhougen, and fight direction by Robert Westley.

Robert Askins' comedy Hand to God opened to rave reviews on April 7, 2015 at Broadway's Booth Theatre (222 West 45th Street), and was previously presented in New York City at Ensemble Studio Theatre in 2011 and Off-Broadway by MCC Theater in 2013.

Hand to God is produced on Broadway by Kevin McCollum, whose credits include Rent, Avenue Q and In the Heights—each the winner of the Tony® Award for Best Musical; as well as the Tony® nominated hits Something Rotten!, The Drowsy Chaperone and Motown the Musical, among many others.