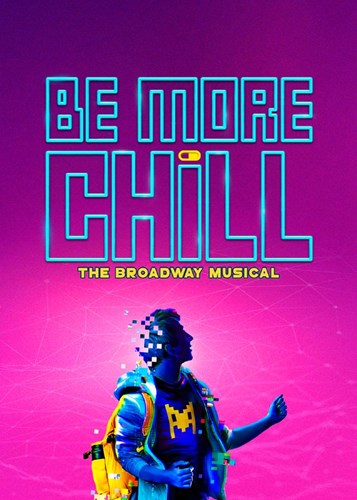 BE MORE CHILL
To Conclude Broadway Run at the Lyceum Theatre
On Sunday, August 11
Joe Iconis Announced the News On Stage Following Tonight's Performance
Be More Chill, the new musical sensation that arrived on Broadway following an unprecedented four- year journey from its world premiere at the Two River Theater, will play its final performance at the Lyceum Theatre on Sunday, August 11, following 30 previews and 177 performances. The news was announced by the show's Tony Award-nominated composer Joe Iconis on stage following this evening's performance.
Producers Jerry Goerhing and Mike Mitri said, "'Pride' massively understates what everyone at Be More Chill feels for this show. Every step in our journey has been special and one-of-a-kind – just like every member of our company, creative team, and crew, and each fan who has supported us. Our time at the Lyceum Theatre has been a true honor and a joy. We are so excited to have been able to touch the hearts of our diverse audiences and hope to watch the show's continued influence grow in years to come."
Joe Iconis said, "Be More Chill has never followed a conventional path. It's a musical that has subverted expectations and caused a ruckus every step of the way. I'm beyond proud that our little underdog musical played for the better part of a year in New York City, and that half of that year was spent on Broadway. Having a show I care about play Broadway has been a dream of mine since I was a child. Do I wish we could've beaten the odds and played 45th street for five years? Yes. Am I aware that by making it to Broadway in the first place, we already beat the odds? Oh hell yes. In the last year I have been told by countless young people that our musical was their first experience in a theater. Our little musical not based on a brand, featuring original showtunes and a cast who reflect the world we live in has introduced so many young people to the theater and for that I am so beyond grateful. The support we've received from titans of the industry, from traditional theatergoers, and from people who never knew they liked musicals before hearing "Michael in the Bathroom" has been the most remarkable thing. Be More Chill getting to Broadway was the culmination of thirteen years of very hard work and I feel such immense gratitude to everyone who has supported my stuff, both onstage and off, from the beginning."
Be More Chill debuted at the Two River Theater on May 30, 2015. That fall, Ghostlight Records released the Be More Chill (Original Cast Recording); by 2017, it had become clear that fans young and old from across the globe were connecting deeply with the show through Joe Iconis's now Tony Award-nominated score. Their unprecedented show of support propelled Be More Chill to a sold-out off-Broadway limited engagement in the summer of 2018, and finally to the musical's Broadway opening night on March 10, 2019. The Broadway production has been honored with numerous awards nominations and was named Favorite New Musical by the Broadway.com Audience Choice Awards.
Be More Chill features music and lyrics by Joe Iconis and a book by Joe Tracz, based on the cult sensation novel by Ned Vizzini. Stephen Brackett directs and Chase Brock choreographs.
What if popularity came in a pill? Would you take it, no questions asked? In Be More Chill, achieving that elusive "perfect life" is now possible thanks to some mysterious new technology-but it comes at a cost that's not as easy to swallow. What could possibly go wrong? Blending the contemporary with retro sci-fi, this thrillingly exciting, comically subversive, and deeply felt new musical takes on the competing voices in all of our heads. And ultimately proves, there's never been a better time in history to be yourself-especially if you're a loser...geek...or whatever.
The Wall Street Journal called Be More Chill "one of the strongest new musicals of the past decade." Rolling Stone hailed it as "a wow of a musical shaking things up on Broadway. Talk about universal! This joyful, roof-raising phenom is uplifted by the irresistible score of the mega-skilled Joe Iconis." New York Magazine writes, "It soars… witty, high octane tunes, bang-up performances and shrewd comedy. It has a welcome edge to it that's refreshing!" AM New York calls Be More Chill "an exciting musical with an addictively catchy score and superb cast. It deserves a place in Broadway history," and NBC says Be More Chill is "the toast of Broadway. A new musical that speaks to a new generation."
The cast of Be More Chill features Will Roland as Jeremy; George Salazar as Michael; Stephanie Hsu as Christine; Gerard Canonico as Rich; Katlyn Carlson as Chloe; Tiffany Mann as Jenna; Lauren Marcus as Brooke; Britton Smith as Jake; Jason SweetTooth Williams as Mr. Heere - Mr. Reyes - Scary Stockboy; and Jason Tam as The Squip. Cameron Bond, Anthony Chatmon II, Morgan Siobhan Green, Troy Iwata, Talia Suskauer, and Joel Waggoner are the company understudies.
The creative team features scenic design by Tony Award winner Beowulf Boritt, costume design by Bobby Frederick Tilley II; lighting design by Tony Award winner Tyler Micoleau; sound design by Ryan Rumery; projection design by Alex Basco Koch; hair and makeup design by Dave Bova; music direction by Emily Marshall; music supervision and orchestrations by Charlie Rosen; fight direction by J. David Brimmer; production supervision by SenovvA Inc.; casting by Telsey + Company / Adam Caldwell, CSA & Rebecca Scholl, CSA.
Be More Chill is presented by Gerald Goehring, Michael F. Mitri, Jennifer Ashley Tepper, Marc David Levine, Marlene and Gary Cohen, 42nd.club, The Viertel Routh Frankel Baruch Group, Jenny Niederhoffer, Ben Holtzman and Sammy Lopez, Jenn Maley and Cori Stolbun, Joan and Robert Rechnitz, Chris Blasting/Simpson & Longthorne, Koenigsberg/Federman/Adler, YesBroadway Productions, Kumiko Yoshii, Bruce Robert Harris and Jack W. Batman, Jay and Cindy Gutterman/Caiola Productions, Phil Kenny/Jim Kierstead, deRoy/Winkler/Batchelder, Jonathan Demar/Kim Vasquez, Brad Blume/Gemini Theatrical Investors, LLC, Alisa and Charlie Thorne, Fred and Randi Sternfeld, Harold F. Mills, Connor Tinglum/Andrew Hendrick, Ashlee Latimer and Jenna Ushkowitz and Two River Theater.