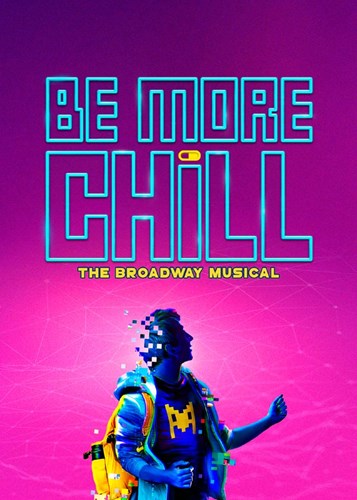 BE MORE CHILL Announces Full Broadway Cast
Be More Chill, will arrive on Broadway with the entire cast of this summer's off-Broadway engagement in tact. The company will feature Will Roland (Dear Evan Hansen, The Black Suits) as Jeremy; George Salazar (tick tick BOOM!, Godspell, The Lightning Thief) as Michael; Stephanie Hsu (SpongeBob SquarePants) as Christine; Gerard Canonico (Spring Awakening, Groundhog Day) as Rich; Katlyn Carlson (Dirty Dancing, The Unavoidable Disappearance of Tom Durnin) as Chloe; Tiffany Mann (Waitress, Jerry Springer the Opera) as Jenna; Lauren Marcus (The Humans at St. Louis Rep, Company at Barrington Stage) as Brooke; Britton Smith (Shuffle Along, After Midnight) as Jake; Jason SweetTooth Williams (Freaky Friday, Benny and Joon, Bloodsong of Love) as Mr. Heere - Mr. Reyes - Scary Stockboy; and Jason Tam (NBC's "Jesus Christ Superstar Live in Concert," KPOP) as The Squip. Cameron Bond (Finding Neverland), Anthony Chatmon II (The Book Of Mormon), Morgan Siobhan Green (Sweetee), Troy Iwata (The Boy Who Danced on Air), Talia Suskauer (Love in Hate Nation) and Joel Waggoner (School of Rock) are the company understudies.
"We are absolutely thrilled that the entire New York premiere company will be making the journey with us to Broadway," says Gerald Goehring, lead producer of Be More Chill." This company has collaborated to bring Joe Iconis and Joe Tracz's beautiful and universal musical to life off-Broadway this summer and we could not have been more thrilled with the outpouring of love we received from our fans around the world. The entire company cannot wait to bring the production to an even greater audience at The Lyceum in the new year."

* * *
Be More Chill will begin performances at Broadway's Lyceum Theatre (149 West 45th Street) on Wednesday, February 13 at 8PM. The official opening night is Sunday evening, March 10.

Be More Chill, features music and lyrics by Joe Iconis (NBC's "Smash," The Black Suits, Broadway Bounty Hunter) and a book by Joe Tracz (The Lightning Thief, Netflix's "Lemony Snicket's A Series of Unfortunate Events") based on the cult sensation novel by Ned Vizzini. Stephen Brackett (Buyer & Cellar) directs and Chase Brock (HBO's "Last Week Tonight," Spider-Man: Turn Off the Dark) choreographs.

The initial New York premiere production of Be More Chill played a sold-out limited engagement off-Broadway this summer. A hit with audiences and critics alike, The New York Times writes "Be More Chill is one of the most popular musicals in America." The Wall Street Journal raves "you don't have to be a millennial to revel in the spunky charms of Be More Chill. See it now if you can wrangle a ticket, because it's going to hit big - deservedly so." The New Yorker says "if you fed Dear Evan Hansen and Mean Girls to the Little Shop of Horrors plant, with a few Xbox games as a digestif, Be More Chill is probably what you would get. ...Dynamic, jouncy, and as infectious as malware." The Hollywood Reporter says "uproarious laughter ...enjoyable, catchy, up-tempo numbers, so winning that it's hard to resist," and Vox calls Be More Chill "a sensation. ... wildly adored  ...universal. ... The audience was screaming at every song." Variety writes "It's one thing to be told that Be More Chill is a viral hit on the internet. It's quite another to experience the hype live and in the room, where the audience explodes like it's at a rock concert. ...People have come from all around the country, if not all around the world to see it."
Even before arriving in New York, Be More Chill's inspired a dedicated community of fans around the world. Before opening, this summer's New York premiere engagement sold out its entire limited run with tickets purchased by fans from all 50 states (plus Washington D.C.), and from 18 countries on five continents.  Be More Chill had already amassed an unprecedented following across various online platforms, with millions of fans from Brazil to Japan to New Jersey sharing fan art, streaming the album (over 200 million streams to date), and talking about the show. Tumblr ranks Be More Chill as the #2 most talked-about musical on their platform, following Hamilton.  Shortly after the announcement of  Be More Chill's Broadway run, it was announced that Shawn Levy's 21 Laps("Stranger Things," Arrival, Night at the Museum) and Greg Berlanti Productions (Love Simon, "Dawson's Creek," "Brothers & Sisters") would bring an adaptation of the Joe Iconis and Joe Tracz musical to the screen.
What if popularity came in a pill? Would you take it, no questions asked? In Be More Chill, achieving that elusive "perfect life" is now possible thanks to some mysterious new technology-but it comes at a cost that's not as easy to swallow. What could possibly go wrong? Blending the contemporary with retro sci-fi, this thrillingly exciting, comically subversive, and deeply felt new musical takes on the competing voices in all of our heads. And ultimately proves, there's never been a better time in history to be yourself-especially if you're a loser...geek...or whatever.

Be More Chill features scenic design by Tony Award-winner Beowulf Boritt (Come From Away), costume design by Bobby Frederick Tilley II (Lizzie Borden, Top Girls); lighting design by Tony Award-winner Tyler Micoleau (The Band's Visit); sound design by Ryan Rumery (Fool For Love); projection design by Alex Basco Koch (Buyer & Cellar); hair and makeup design by Dave Bova; musical direction by Emily Marshall; music supervision and orchestrations by Charlie Rosen (Prince of Broadway, Honeymoon in Vegas); fight direction by J. David Brimmer; production supervision by SenovvA Inc.; casting by Telsey + Company / Adam Caldwell, CSA & Rebecca Scholl, CSA; production stage management by Amanda Michaels (The Children, Thérèse Raquin). John Corker and Lisa Dozier King are general managers for the Broadway run of Be More Chill.
Be More Chill is presented by Gerald Goehring, Michael F. Mitri, Jennifer Ashley Tepper, Marc David Levine, Marlene and Gary Cohen, 42nd.club, The Baruch Frankel Viertel Group, Jenny Niederhoffer, Robert and Joan Rechnitz, Jenn Maley and Cori Stolbun,  Chris Blasting/Simpson & Longthorne, Ben Holtzman and Sammy Lopez, Koenigsberg/Federman/Adler, YesBroadway Productions, Kumiko Yoshii, Phil Kenny/Jim Kierstead, Bruce Harris and Jack Batman, Jay and Cindy Gutterman/Caiola Productions, deRoy/Winkler/Batchelder, Jonathan Demar/Kim Vasquez, Alisa and Charlie Thorne, Fred and Randi Sternfeld, Brad Blume/Gemini Theatrical, Connor Tinglum/Andrew Hendrick, Ashlee Latimer and Jenna Ushkowitz and Two River Theater.
Following up on the success of The 2015 Two River Theater cast recording, available from Ghostlight Records, a special edition Be More Chill original cast recording on vinyl is now available. The 2-disc package features new illustrative designs, green and red colored discs, and a 16-page, 12 x 12 booklet with lyrics, production photos and a new liner note from Joe Iconis.  

Performance rights for Be More Chill are licensed by R&H Theatricals.