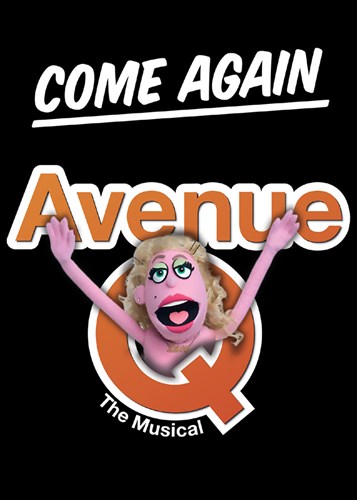 AVENUE Q

will close April 28 2019

in NYC

after 15+ year run on Broadway

and New World Stages


AVENUE Q – winner of three 2004 Tony Awards including Best Musical – will conclude its celebrated 15+ year run in New York on April 28, 2019, it has been announced by the show's producers. Produced by Kevin McCollum, Robyn Goodman, Jeffrey Seller, Vineyard Theatre and The New Group, AVENUE Q will have played a total of 6537 performances upon closing: from its first Broadway preview on July 14, 2003 to its final performance at New World Stages (340 W. 50 St.) on April 28 next year.

Powered by its Tony for Best Musical and additional Tonys for Best Music and Lyrics to Robert Lopez and Jeff Marx, and Best Book of a Musical to Jeff Whitty, AVENUE Q's victory at the 2004 Tony Awards was considered an historic upset and effectively redrew the landscape for innovation, originality and success on Broadway. The musical recouped its investment in just 10 months, and with its fresh and funny tale about people and puppets just out of college looking for their purpose in life, AVENUE Q has been groundbreaking in its appeal to young theatergoers who relate to the characters and the challenges they face learning adult life lessons about racism, coming out, unemployment, dating, sex and porn. The show has indeed captivated audiences of all generations with it singular, hilarious take on the traditional story of boy-meets-girl, boy-loses girl, boy tries to win girl back – except in AVENUE Q, the boy and girl just happen to be puppets.

The producers state, "We are incredibly proud of the fact that AVENUE Q transformed the careers of so many people in our company throughout its run. The show gave audiences the opportunity to laugh, escape from the outside world for two hours and have tons of fun. AVENUE Q proved to be timeless and we learned that sometimes it takes a puppet to make us realize how remarkable, complicated and messy it is to be human."

AVENUE Q has music and lyrics by Robert Lopez and Jeff Marx, book by Jeff Whitty, and is directed by Jason Moore. Based on an original concept by Robert Lopez and Jeff Marx, with puppets conceived and designed by Rick Lyon, musical supervision by Stephen Oremus, choreography by Ken Roberson, scenic design by Anna Louizos, costume design by Mirena Rada, lighting design by Howell Binkley, and sound design by Acme Sound Partners. Music director is Brian Hertz. Animation design is by Robert Lopez, incidental music is by Gary Adler, and casting is by Cindy Tolan & Adam Caldwell. Christine M. Daly is Production Stage Manager.

After its 6+ year run on Broadway, on the occasion of the musical's closing night in September 2009, AVENUE Q's producers made the surprise announcement that the show was, in fact, not closing, but would open again three weeks later at New World Stages, where it has been playing for more than 9 years.

The current cast of AVENUE Q includes Nicholas Kohn, Jason Jacoby, Matt Dengler, Gizel Jimenez, Lacretta, Jamie Glickman, Michael Liscio, Jr., Imari Hardon, Katie Boren, Rob Morrison and Grace Choi.

AVENUE Q's unforgettable cast of characters include Princeton, Kate Monster, Rod, Lucy The Slut, Trekkie Monster, Gary Coleman, The Bad Idea Bears, Mrs. Thistletwat, Christmas Eve and Brian.


Earlier this year, AVENUE Q marked its 15th anniversary with a series of special events and performances that featured members of the original cast. When Avenue Q celebrated it's 10 year Anniversary on July 31, 2013 The City of New York proclaimed that as AVENUE Q DAY.

The musical routinely made headlines with its accomplishments both on and off the stage through the years: Avenue Q partnered with Logo TV in a year-long series of public service announcements in 2013 promoting safe sex and HIV prevention. In July 2011, Q puppets Rod and Ricky made international headlines when they were among the first couples to be married outside City Hall with the passage of the same-sex marriage laws in New York State. Avenue Q puppets appeared at the opening of the Gay Games in Chicago.

Republican puppet Rod was featured in a full-length Q&A with Paul Rudnick in The New York Times coverage of the 2004 Republican National Convention in NY. Avenue Q dealt with the death in real-life of the former child star Gary Coleman (he continues to be depicted as a character in the musical). Avenue Q famously changed one of its most talked-about lyrics -- "George Bush!" -- in the song "For Now" after George W. Bush left the Presidential office in 2008. (Presently, the musical allows that Donald Trump is "only for now.") Avenue Q cast and puppets have been featured on GOOD MORNING AMERICA (including a mock Presidential debate between George W. Bush and John Kerry puppets live on-air), LIVE WITH REGIS AND KELLY (including the debut of Regis Philbin, Kelly Ripa and Michael Gelman puppets), CBS SUNDAY MORNING, THE TODAY SHOW, TONIGHT SHOW WITH Jimmy Fallon, THE VIEW, JEOPARDY!, HOLLYWOOD SQUARES, $10,000 PYRAMID, ABC 20/20, numerous appearances on the TONY AWARDS telecast as performers and presenters, QUEER EYE FOR THE STRAIGHT GUY, MTV, VHI, in promotional "Get Caught Reading" campaigns, FOX BUSINESS NEWS, NEW YORK 1 NEWS, promotional spots for WCBS-TV 2, as color commentators for CBS-TV's national coverage of the Macy's Thanksgiving Day Parade, CNN, etc.

Most recently, AVENUE Q was a key element in the storyline of the first season of the hit HBO series BIG LITTLE LIES as the character depicted by Reese Witherspoon faced opposition when she mounts a production – and stirs controversy – at a community theater.

Celebrity visitors to Avenue Q have included President Bill Clinton, Hillary Clinton, Chelsea Clinton, Tom Hanks, Rita Wilson, Judi Dench, Hilary Swank, Nicole Kidman, Bette Midler, Diana Ross, Billy Crystal, Carol Burnett, Charlton Heston, Kirk Douglas, David Bowie, Ben Folds, Clive Davis, Frank Oz, Joan Rivers, Glenn Close, Gloria Steinem, George Lucas, Hal Prince, Mike Nichols, Diane Sawyer, Barbara Walters, Katie Couric, Howard Stern, Hugh Jackman, Stephen Sondheim, Jessica Alba, Jake Gyllenhaal, Janet Jackson, Jimmy Fallon, Ben Stiller, Christine Taylor, Anne Meara, Jerry Stiller, Macauley Culkin, Lauren Bacall, Matt Stone,Trey Parker, Jeffrey Katzenberg, Robert Zemeckis, Bruce Vilanch, Sean Penn, Elijah Wood,Bobby McFerrin, Martin Lawrence, Megan Mullaly, Danny DeVito, Rhea Perlman, David Hyde Pierce, Nathan Lane, Rosie O'Donnell, David Schwimmer, Angela Bassett, Jeff Daniels, Zac Efron, Christian Slater, Kathleen Turner, Pentatonix and Uma Thurman.