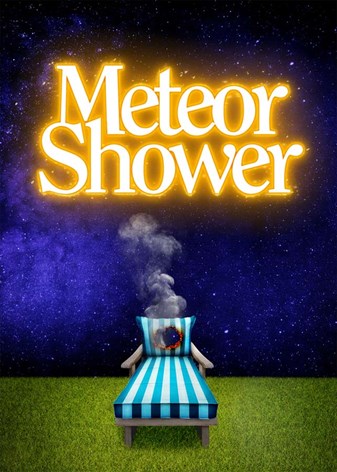 STEVE MARTIN'S NEW COMEDY
"METEOR SHOWER"
HITS BROADWAY THIS FALL

STARRING
AMY SCHUMER
KEEGAN-MICHAEL KEY
LAURA BENANTI
ALAN TUDYK

DIRECTED BY JERRY ZAKS


New York, NY - Producer Joey Parnes announced today that Tony Award-nominated playwright and comedy-world icon Steve Martin's new play, Meteor Shower, will premiere on Broadway this fall in a production starring Emmy Award-winner Amy Schumer in her Broadway debut; Emmy Award-winner Keegan-Michael Key, also in his Broadway debut; Tony Award-winner Laura Benanti; and Alan Tudyk; and directed by four-time Tony Award-winner Jerry Zaks. Previews begin Wednesday, November 1, 2017 at Broadway's Booth Theatre (222 West 45th Street). Opening night is set for Wednesday, November 29.

It's a hot night in Ojai, California, and Corky (Schumer) and her husband Norm (Tudyk) are having another couple over for dinner. Laura (Benanti) and Gerald (Key), though, aren't looking for a casual evening of polite small talk with new friends. Eventually, the two couples find themselves in a marital free-fall matched in velocity and peril only by the smoldering space rocks tearing through the sky. Entertaining has never been more entertaining than in this "cosmic comedy from the master of the American absurd" (Variety).

The design team for Meteor Shower includes Tony Award-winner Beowulf Borritt (Scenic Design), Tony and Academy Award-winner Ann Roth (Costume Design), six-time Tony Award-winner Natasha Katz (Lighting Design), and two-time Drama Desk Award-winner Fitz Patton (Sound Design). Casting is by David Caparelliotis.

Tickets are currently on sale, and can be purchased via Telecharge.com or by visiting MeteorOnBroadway.com.

Meteor Shower had its world premiere at San Diego's Old Globe Theatre, and had a subsequent production at the Long Wharf Theatre in New Haven, CT.

Meteor Shower is produced on Broadway by Joey Parnes, Sue Wagner, and John Johnson.


B I O G R A P H I E S

Amy Schumer (Corky) has proven herself to be one of the entertainment industry's leading forces as a standup comedian, actress, writer, producer and director. Schumer is the creator, star, writer and executive producer of the award winning "Inside Amy Schumer," the popular Comedy Central television series, which premiered in April 2013 to the network's highest season premiere ratings of that year. "Inside Amy Schumer" won the 2015 Writers Guild Award for Best Comedy/Variety Sketch series. In 2015, the show was honored with the first-ever Primetime Emmy Award for Outstanding Sketch Variety Series. Schumer was also nominated for Outstanding Directing for a Variety Series and Outstanding Writing for a Variety Series. Schumer received honors for Individual Achievement in Comedy and Outstanding Achievement in Comedy from the Television Critics Association in 2015. Additionally, she was awarded the 2015 Critics' Choice Television Award for Best Actress in a Comedy Series. Among the show's many accolades, it also received the prestigious Peabody Award in 2014. Schumer's first book, The Girl with The Lower Back Tattoo, continues to live on The New York Times bestseller list. Additionally, the book earned her a 2017 Grammy Award nomination for Best Spoken Word Album and will be released in paperback this August. Schumer was most recently seen on the big screen in Snatched, the mother-daughter comedy opposite Goldie Hawn. She can next be seen in Jason Hall's drama Thank You For Your Service this fall. Schumer is currently in production in Marc Silverstein and Abby Kohn's I Feel Pretty opposite Michelle Williams, and will star in Rebecca Miller's She Came to Me opposite Nicole Kidman in early 2018. Schumer's Universal Pictures hit Trainwreck dominated the 2015 summer comedy worldwide box office. Schumer wrote the film which co-starred Bill Hader, Tilda Swinton, Brie Larson, LeBron James and Vanessa Bayer. Judd Apatow directed the film which was nominated for two Golden Globes including Best Actress, Comedy or Musical, as well as Best Picture, Comedy or Musical. Additionally, she won the Critics' Choice Award for Best Actress in a Comedy and was nominated for a Writers' Guild Award in the category of Original Screenplay. That same year, the British Academy of Film and Television (BAFTA) honored Schumer with The Charlie Chaplin Britannia Award for Excellence in Comedy. Schumer's latest one hour Comedy special titled "The Leather Special" is currently streaming on Netflix. Her one-hour HBO comedy special, "Amy Schumer: Live at the Apollo" directed by Chris Rock, premiered on October 17, 2015, and was HBO's most watched Saturday night comedy special debut since December 2009. The special earned her Primetime Emmy Award and Writers Guild Award nominations for Best Comedy/Variety Special as well as a 2017 Grammy Award nomination for Best Comedy Album. She continues to tour to sold out shows around the world. For the past two years, Schumer also received Pollstar's Best Comedy Tour of the Year Award.

Keegan-Michael Key (Gerald). As an actor, writer, and creator, Keegan-Michael Key has become one of the most creative and in-demand faces in Hollywood. With his extraordinarily diverse skill set and wide-ranging talent in both comedy and drama, Key redefines what it means to be a chameleon and multi-hyphenate in the worlds of film, television, and theater. Currently, Key can be seen in Nick Stoller's comedy series "Friends from College," which follows a group of Harvard alumni and their adult successes – or lack thereof. The show premiered on Netflix on July 14th. He also recently made his New York stage debut in The Public Theater's production of Hamlet as Horatio, opposite Oscar Isaac. Sam Gold directs the production, which opened on July 13th. He recently wrapped production on Shane Black's The Predator, which is expected to hit theaters August 3, 2018. A sequel to the 1987 sci-fi hit Predator, the film also stars Sterling K. Brown, Trevante Rhodes, and Jacob Tremblay. Later this year, he will also lend his voice to Sony Picture Animation's The Star, due this November. Key is the co-creator and co-star of Comedy Central's "Key & Peele" with Jordan Peele. The show won the 2016 Emmy Award for Outstanding Variety Sketch Series, with Key being individually nominated for acting and co-writing with Peele. Key was previously nominated for 5 Emmy Awards for his work on the show, as well as a 2016 Screen Actors Guild Award for Outstanding Performance by an Ensemble in a Comedy Series. "Key & Peele" won a 2014 Peabody Award and an American Comedy Award for Best Alternative Comedy Series. The show has become a TV and viral sensation, with 15 total Emmy nominations and approaching a billion cumulative online hits. The series concluded its five season run in September 2015. On the big screen, Key was last seen in Joe Swanberg's film Win It All, which premiered at the 2017 South by Southwest Film Festival, in advance of its April launch on Netflix. Before that, he starred in John Hamburg's comedy Why Him?, in which he stars alongside James Franco, Bryan Cranston, and Megan Mullally. He also starred in Mike Birbiglia's critically acclaimed indie Don't Think Twice, which premiered at 2016's South by Southwest and Tribeca Film Festivals, and was widely regarded as one of the best films of the year. Additional past film work includes Keanu, which he co-starred in and produced alongside Jordan Peele, Pitch Perfect 2, Horrible Bosses 2, Let's Be Cops, Wanderlust, Just Go with It, Role Models, Hell Baby, Afternoon Delight, and Due Date. He has also done vocal work for Storks, Angry Birds, Hotel Transylvania 2, and The Wild Bunch. On television, Key had a recurring role on the Emmy-winning FX series "Fargo," USA's "Playing House," Adult Swim's "Children's Hospital," and NBC's "Parks & Rec." He was also a series regular on FOX's "MADtv" for six seasons and CBS's "Gary Unmarried." Additional TV credits include "The League," "The Middle," "How I Met Your Mother," "Bob's Burgers," "Reno 911!" and "ER." Key also received a 2016 Emmy nomination for his voiceover work in Crackle's animated comedy "SuperMansion." Key was named among Time Magazine's "Most Influential People of 2014" and Entertainment Weekly's "Entertainers of the Year of 2012." He is a veteran of Detroit and Chicago's The Second City Theater, and received his Bachelor's Degree in Fine Arts from the University of Detroit-Mercy, and his Master of Fine Arts in Theater from Pennsylvania State University.

Laura Benanti (Laura). Tony Award-winner Laura Benanti can now be seen touring the country in her latest solo show, Tales from Soprano Isle. The show will feature songs from Laura's career, including She Loves Me, along with humorous anecdotes and experiences that she has encountered on/off the stage and screen. She recently made headlines as a guest on "The Late Show with Stephen Colbert" with her spot-on, hilarious impersonation of Melania Trump. In 2017, Laura joined the cast as a regular on the hit "Samantha Bee" and Jason Jones' TBS comedy, "The Detour." In 2016, Laura starred as Amalia Balash in the hit Broadway Musical, She Loves Me, for which she received her fifth Tony nomination. Laura also received Outer Critics Circle, Drama League and Drama Desk Award nominations for this role. In addition to television work and her critically acclaimed performance as Elsa Schrader in NBC's "The Sound of Music LIVE," Ms. Benanti is a highly celebrated stage actress who took Broadway by storm at the age of 18. She received a Drama Desk award, Outer Critics Circle Award and a Tony Award Nomination for her starring role in the Broadway production of Women on the Verge of a Nervous Breakdown for Lincoln Center where she also starred in the Broadway production of Sarah Ruhl's In the Next Room or The Vibrator Play. Ms. Benanti earned the 2008 Tony Award for Outstanding Featured Actress in a Musical, a Drama Desk and Outer Critics Circle Award for her revelatory portrayal of Gypsy Rose Lee in Gypsy opposite Patti LuPone and directed by Arthur Laurents. Her other Broadway roles include The Wedding Singer, Nine, starring Antonio Banderas, her Tony, Drama Desk and Outer Critics Circle Award-nominated performance of Cinderella in Stephen Sondheim's Into the Woods and her sultry Tony nominated turn in Swing! Ms. Benanti made her Broadway debut as Maria in The Sound of Music opposite Richard Chamberlain. Other distinguished theater performances include the Public Theater's production of Christopher Durang's Why Torture is Wrong and the People Who Love Them, Perdita in The Winter's Tale at the Williamstown Theatre Festival opposite Kate Burton, Anne in A Little Night Music at the L.A. Opera opposite Victor Garber, Eileen in Wonderful Town opposite Donna Murphy and most recently her portrayal of Rosabella in the Most Happy Fella, both for City Center Encores! Ms. Benanti completed a week-long engagement at the popular New York cabaret club, 54 Below, for which The New York Times hailed her as a "supremely confident" performer whose "bright, full soprano, with its semioperatic heft, can go almost anywhere." In September 2013, she released her debut album, In Constant Search of the Right Kind of Attention: Live at 54 BELOW on Broadway Records to ecstatic reviews. Laura currently performs her concerts in venues around the country and even recently performed for the President and First Lady of the United States at both the Fords Gala and the Kennedy Center Honors in Washington DC. In 2014, she joined the cast of ABC's hit series "Nashville" guest-starring as songbird Sadie Stone. Laura also appeared in recurring roles on CBS's "The Good Wife" and HBO's "Nurse Jackie." Laura's past television credits include a starring role in the NBC series "The Playboy Club" and "Go On" opposite Matthew Perry. She also starred in the F/X original series "Starved". Ms. Benanti had a recurring role on "Law and Order: SVU," "Royal Pains," and "Eli Stone." and had appearances on "The Big C" and "Elementary". She currently resides in Manhattan with her husband Patrick and daughter Ella. Website: LauraBenanti.com. Twitter: @LauraBenanti

Alan Tudyk (Norm) is an Emmy-nominated actor whose credits span throughout stage, film, and television. In 2016, Tudyk appeared in Lucasfilm's Rogue One: A Star Wars Story, as the scene-stealing and snarky, security droid, 'K-2SO' and motion performed the lead robot, 'Sonny,' in I, Robot opposite Will Smith in 2004. He also voiced characters in two Academy-Award nominated animated films, playing the 'Duke of Weaselton' in Disney's Zootopia and the rooster 'Hei Hei' in Disney's Moana and returned to the recording booth to voice 'The Duke of Weaselton' in Disney's Academy Award-winning Frozen, as well as his role as 'King Candy' in Disney's animated feature, Wreck-It Ralph, garnering him an Annie Award. Tudyk is also the creator and star of the Emmy-nominated, record-breaking series, "Con Man,"which is executive produced by Tudyk, Nathan Fillion and author PJ Haarsma and is loosely based on Tudyk's and Fillion's experiences starring in "Firefly." The series explores all the crazy and real things that happen behind the scenes in the world of fandom due to its growing popularity, and will begin airing on SYFY this September. Tudyk has shown audiences wide versatility in numerous television shows and several feature films including, Jay Roach's 2015 SAG Award nominated feature Trumbo, 42, Welcome to Me, Wonder Boys, 28 Days, A Knight's Tale, Dodgeball: A True Underdog Story, Death at a Funeral (the original UK version), Knocked Up, Tucker and Dale vs Evil, 3:10 to Yuma, Serenity, Premature, Abraham Lincoln Vampire Hunter, Transformers 3, and Patch Adams. In television, Tudyk can be seen in numerous, critically acclaimed series. Most recently, he starred as 'Van Wayne,' the cousin to 'Bruce Wayne,' in NBC's workplace comedy "Powerless," which was the first comedy series set in the universe of DC Comics. Tudyk will guest appear next in Season 2 of BBC America's "Dirk Gently's Holistic Detective Agency" as 'Mr. Priest,' a ruthless, dangerous, and violent bounty hunter. Tudyk attended Juilliard in New York, and has starred on Broadway opposite Kristin Chenoweth in Epic Proportions, played 'Lancelot' with the original cast in Monty Python's Spamalot, and embodied the lead role of 'Peter' in Prelude to a Kiss opposite John Mahoney.

Steve Martin (Playwright). As an actor, comedian, author, playwright, screenwriter, producer and musician—Steve Martin is one of the most diversified performers and acclaimed artists of his generation. Martin has been successful as a writer of and performer in some of the most popular movies of recent film history—appearing in more than 50 films over the course of his career. With titles such as Planes, Trains and Automobiles; Parenthood; Father of the Bride and Cheaper by the Dozen franchises; Baby Mama; and It's Complicated, Martin's films are the kind that are viewed again and again. Martin wrote the screenplays for some of his most celebrated films including The Jerk, Roxanne, Bowfinger, L.A. Story and Shopgirl. Martin's first film was a seven-minute short he wrote and starred in, The Absent-Minded Waiter. The film was nominated for an Academy Award® for Best Short Film, Live Action in 1977. Martin recently received The 43rd AFI Lifetime Achievement Award. He's also received The Board of Governors of the Academy of Motion Picture Arts and Sciences Honorary Award at the Academy's 5th Annual Governors Awards. He has also hosted the Academy Awards® three times. As an author, Martin has written several books including his most recent, An Object of Beauty which is being developing into a feature film. He has also written a bestselling collection of comic pieces, Pure Drivel, a bestselling novella, Shopgirl, as well as plays including Picasso at the Lapin Agile, children's books and an art collection book. Martin wrote his first memoir Born Standing Up in 2007. His work frequently appears in The New Yorker and The New York Times. Martin began his career as a writer on The Smothers Brothers Comedy Hour, for which he earned his first Emmy Award® for Outstanding Writing Achievement in Comedy, Variety, or Music in 1969. In the mid-1970s, Martin shone as a stand-up on "The Tonight Show Starring Johnny Carson," made appearances on HBO's "On Location" and NBC's "Saturday Night Live," and became the first comedian to sell out an arena performance. As one of the world's most celebrated comedians, Martin's comedy album Let's Get Small (1978) went platinum in the United States and won a Grammy® for Best Comedy Album. His second album, Wild and Crazy Guy, was a comedy album that featured his first music single "King Tut." This album reached double platinum status in the U.S and earned Martin his second Grammy® Award for Best Comedy Album. Martin's third comedy album, Comedy is Not Pretty, was nominated for a Grammy® Award for Best Comedy Album in 1979. Ever evolving his body of work Martin is also a Grammy® Award winning musician who found his love for the banjo at the age of 17. Martin originally used his passion for the banjo as part of his standup comedy routine, but in 2010, he released his first album, The Crow: New Songs for the 5-Strong Banjo. Since then, Martin has played many prestigious stages including Carnegie Hall, Royal Festival Hall in London, and the Capitol Building in Washington D.C. Martin released his second full length bluegrass album Rare Bird Alert in 2011. The album featured 13 Martin-penned tracks as well as special guest vocal appearances by Paul McCartney and The Dixie Chicks. Additionally, Martin co-wrote two of the CD's songs with the Grammy®-winning bluegrass band, Steep Canyon Rangers. That year, Martin won the International Bluegrass Music Association's Entertainer of the Year Award. Martin also created the Steve Martin Prize for Excellence in Banjo and Bluegrass for those who exemplify outstanding bluegrass performance. In 2013, Steve Martin released his third full-length album called Love Has Come For You, a unique collaboration with songwriter Edie Brickell. Love Has Come For You won a Grammy® for "Best American Roots Song" for the title track and inspired the Broadway musical Bright Star. Bright Star received five Tony Award nominations, including Best Musical, and won the Outer Critics Circle Awards for Outstanding New Broadway Musical and Outstanding New Score. Martin and Brickell's second album together, So Familiar, was released on Rounder Records and featured 12 remarkable new songs that bought the acclaimed duo's musical collaboration into fresh creative territory. Born in Waco, TX, in 1945, Steve Martin was raised in Southern California and began working as a comedian and magician at area amusement parks, including The Magic Shop at Disneyland. Martin went on to Santa Ana College, and then earned his Theater Arts degree from UCLA.

Jerry Zaks (Director). Credits include Hello, Dolly!; A Bronx Tale: the musical; Shows For Days; Sister Act; The Addams Family; Guys and Dolls; Six Degrees of Separation; Lend Me a Tenor; House of Blue Leaves; The Front Page; A Funny Thing…Forum; Smokey Joe's Café; Anything Goes; La Cage aux Folles; Little Shop of Horrors; The Man Who Came to Dinner; The Foreigner; Laughter on the 23rd Floor; Sister Mary Ignatius...; Beyond Therapy; Baby with the Bath Water; and The Marriage of Bette and Boo. Proud father of Emma and Hannah, he has received four Tony Awards and eight nominations. He's also received four Drama Desks, two Outer Critics Circle Awards, and an Obie. He directed the award-winning film Marvin's Room, starring Meryl Streep and Diane Keaton. Mr. Zaks is a founding member of the Ensemble Studio Theater. He received the SDC's George Abbott Award for Lifetime Achievement in the Theatre and an honorary Doctorate of Fine Arts from Dartmouth, his alma mater. He is a 2013 inductee to the Theatre Hall of Fame.