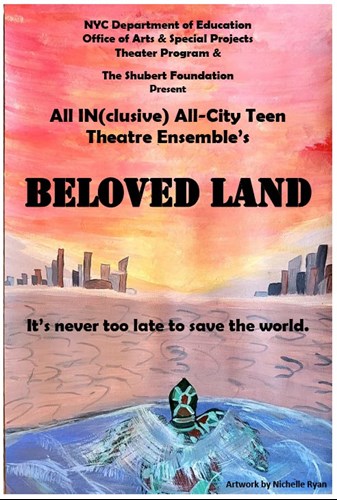 All IN(clusive) All-City Theatre Teen Ensemble's Musical Beloved Land Premieres on Playbill December 8

By Logan Culwell-Block
December 8, 2021

The Program from NYC's Department of Education Sees young artists writing and performing an original musical reflecting the diversity of the student creators.
All IN(clusive) All-City Theatre Teen Ensemble premieres its new, original musical Beloved Land on Playbill. The virtual performance will be available to stream at Playbill.com/BelovedLand beginning December 9 at 7 PM ET (refresh the page if you're not seeing the full 40-minute performance).

A program of New York City's Department of Education, the ensemble brings New York City public school students from diverse races, ethnicities, gender identities, and abilities to collaborate, devise, rehearse, and perform an original musical that reflects the diverse points of view of its student ensemble.
READ MORE | STREAM THE MUSICAL