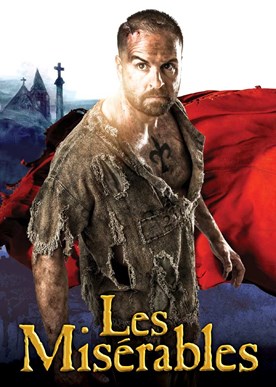 ALFIE BOE
BRINGS HIS LEGENDARY PERFORMANCE
OF 'JEAN VALJEAN' TO BROADWAY
AND TONY AWARD NOMINEE
MONTEGO GLOVER
DEBUTS AS FANTINE
IN CAMERON MACKINTOSH'S
NEW BROADWAY PRODUCTION OF
BOUBLIL & SCHÖNBERG'S
LES MISÉRABLES

Internationally-renowned performer Alfie Boe returns to Broadway as 'Jean Valjean' in Cameron Mackintosh's acclaimed new Broadway production of Claude-Michel Schönberg & Alain Boublil's LES MISÉRABLES, now in its second year at the Imperial Theatre (249 West 45th Street).  Boe will be matched up against Earl Carpenter, who will extend his contract in his acclaimed performance as Javert.  New cast members Tony Award nominee Montego Glover (Fantine) and Alex Finke (Cosette) also debut with the cast.
Tony Award nominee Ramin Karimloo gave his final performance as Valjean this Sunday, August 30.
Boe is beloved by millions of Les Miz fans for his towering performance in the legendary 25th Anniversary Concert at London's O2 Arena in October, 2010, which instantly turned him into a star.  The Evening Standard proclaimed, "Alfie Boe is a stunning Valjean."  The legendary concert was subsequently released on DVD and Blu-Ray, selling millions of copies worldwide.  In 2011, Boe played a sold-out six-month engagement as Valjean in the original West End production of LES MISÉRABLES at the Queen's Theatre.   His performances as 'Valjean' rapidly propelled him into a platinum-selling recording artist and a hugely-successful concert performer worldwide.
Widely-known as Britain's favorite tenor, Boe hails from the Lancashire, England fishing port Fleetwood.  After studying and singing opera at London's National Opera Studio and the Royal Opera House, Boe was chosen by director Baz Luhrmann to star as Rodolfo in his Broadway production of La Boheme.   He went on to release numerous highly-successful solo albums in the UK and the US and has toured extensively in both regions.
His newest solo album is Serenata, a collection of romantic Italian songs, which was released in November, followed by a highly-successful UK tour that concluded at the O2 Arena.   In July, Boe will co-star with Pete Townsend in his Classic Quadrophenia at London's Royal Albert Hall.  His live opera appearances include The Pearl Fishers at the English National Opera and Romeo ET Juliette at the Royal Opera House.  He was recently featured in the popular ITV series "Mr. Selfridge" as music-hall singer Richard Chapman and released his autobiography, My Story.  In addition to his acclaimed performances as Valjean at the London O2 25th Anniversary Concert and in the West End production, Boe performed "Soliloquy (What Have I Done?)" as well as "Bring Him Home" with Colm Wilkinson, John Owen-Jones and Simon Bowman for Prince Charles and the Duchess of Cornwall as part of the Royal Variety Performance in 2010. In 2012 he performed at the Queen's Diamond Jubilee.   www.alfie-boe.com
Now in its second year on Broadway, this newly-reimagined production of LES MISÉRABLES opened on Broadway March 23, 2014 to critical acclaim.  The Associated Press raved, "A glorious LES MISÉRABLES!  This terrific new production is beautifully sung and acted."  NY 1 said, "LES MISÉRABLES is born again.  This is as close to perfection as we'll ever get in the theater." And The Huffington Post proclaimed, "This is a LES MISÉRABLES for the 21st century!  It stirs the audience and rocks the rafters."   The new Broadway production of LES MISÉRABLES is now exclusively the only place in North America where the shown can be seen.
Based on Victor Hugo's classic novel, LES MISÉRABLES is an epic and uplifting story about the survival of the human spirit.  The magnificent score includes the classic songs "I Dreamed a Dream," "On My Own," "Stars," "Bring Him Home," "Do You Hear the People Sing?," "One Day More," "Empty Chairs at Empty Tables," "Master Of The House" and many more.
Cameron Mackintosh's production of LES MISÉRABLES is written by Alain Boublil and Claude-Michel Schönberg and is based on the novel by Victor Hugo. It has music by Claude-Michel Schönberg, lyrics by Herbert Kretzmer and original French text by Alain Boublil and Jean-Marc Natel, original adaption by Trevor Nunn and John Caird and additional material by James Fenton. The original LES MISÉRABLES orchestrations are by John Cameron with new orchestrations by Christopher Jahnke, Stephen Metcalfe and Stephen Brooker. 
The new production is directed by Laurence Connor and James Powell, with set and image design by Matt Kinley inspired by the paintings of Victor Hugo, costumes by Andreane Neofitou and Christine Rowland, lighting by Paule Constable, sound by Mick Potter and projections realized by Fifty-Nine Productions.  Musical staging is by Michael Ashcroft and Geoffrey Garratt.  Musical supervision is by Stephen Brooker and musical direction by James Lowe.
While the original London production of LES MISÉRABLES prepares to celebrate its record-breaking 30th Anniversary on October 8th of this year, the new version of the show is making history playing to packed houses on Broadway, and in Australia, Japan, South Korea and Spain.  In 2015, all four of Mackintosh's 'mega-hits' were back in London's West End:  the original productions of Les Misérables and The Phantom of the Opera, the smash hit new production of Miss Saigon, now in its second year, and the limited return engagement of Cats.
The original New York production of LES MISÉRABLESpremiered first at the Broadway Theatre on March 12, 1987, later moving to the Imperial on October 17, 1990, where it played until May 18, 2003, for a total Broadway run of 6680 performances.   LES MISÉRABLES is the 5th longest-running Broadway production of all time.
Seen by 70 million people worldwide in 43 countries and in 22 languages, LES MISÉRABLES is undisputedly one of the world's most popular musicals ever written, with new productions continually opening around the globe.  The worldwide gross for LES MISÉRABLES is $2.5 billion. The 2012 Universal film version of LES MISÉRABLES co-produced by Cameron Mackintosh and Working Title Films, is one of the most successful musical films ever, grossing more than $450 million.  The film received the Golden Globe Award as Best Picture (Musical/Comedy) and received eight Academy Award nominations, including Best Picture, and won three Academy Awards.  The film's soundtrack debuted at #1 on Billboard's Album chart and has sold over 2 million copies worldwide.  
There have been 47 cast recordings of LES MISÉRABLES, including the multi-platinum London cast recording, the Grammy Award-winning Broadway cast and complete symphonic albums and live recording of the New 25th Anniversary Production.
The cast of LES MISÉRABLES also features Tony Award and Olivier Award nominee Gavin Lee as Thenardier, Rachel Izen as Madame Thenardier, Brennyn Lark as Eponine, Chris McCarrell as Marius and Wallace Smith as Enjolras. 
Alfie Boe will not perform in LES MISÉRABLES October 27 through November 1 due to prior commitments.