Shubert Internship Program
Shubert Internship Program
2023 Internship Program
An Introduction to Theatre Careers Beyond the Curtain
The Shubert Organization Internship Program application deadline for 2023 was Friday, April 7, 2023, and the process is now closed. Candidates selected for an interview will be notified by the end of April, 2023. Candidates selected for the program will be notified by mid- to late-May, 2023.

If you applied, we look forward to reading your application. Otherwise, we wish you well in your future endeavors!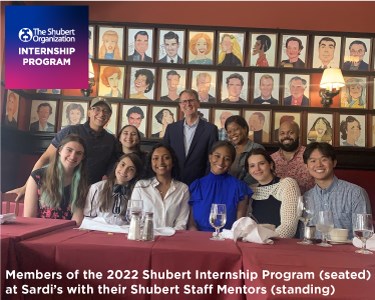 SHUBERT ORGANIZATION PAID INTERNSHIPS FOR GRADUATING HIGH SCHOOL SENIORS AND FIRST YEAR COLLEGE STUDENTS
Deadline to apply is April 7, 2023
We are thrilled to announce the 2023 Internship Program from The Shubert Organization. The program offers serious theater students an opportunity to engage in the industry from beyond the stage.  Emphasis is given to BIPOC students although open to all motivated, enthusiastic, and committed high school seniors and graduating students this summer.
With a focus on the industry from the theatre owner's perspective, The Shubert Organization Internship Program will provide a general knowledge base of theatre administration and operations and offer hands-on project involvement as the organization prepares for the 2023-2024 theatre season. Part of Shubert's overall commitment to help achieve greater diversity, equity and inclusion in the Broadway industry is to develop education programs and pathway training for Black, Indigenous and People of Color (BIPOC), and historically marginalized students who are looking for careers in non-performance areas of theatre.
The Shubert Organization is America's oldest professional theatre company and the largest theatre owner on Broadway. Shubert currently owns and operates 17 Broadway theatres, six off-Broadway venues, and the Forrest Theatre in Philadelphia. In addition, Shubert's innovative ticketing solutions offer unparalleled distribution and marketing to the theatre industry and beyond. Its consumer-facing brands—Telecharge for retail ticket sales, and Broadway Inbound for ticketing to tour operators and the travel industry—sell millions of tickets each year.
Intern supervision and guidance will be provided by Shubert management and staff. Each student will be assigned a specific project to complete with real-time goals and objectives. Morning check in meetings with managers will evaluate progress, offer feedback, and provide further instruction. Weekly inter-departmental intern lunches with the coordinators and senior staff will provide community building and expanded learning about career opportunities in theatre management, administration, and operations.
The internship will also introduce students to the scores of professional careers available in the theatre industry beyond the world of performance and help guide them to their natural skill set as they contemplate careers in theatre.
AVAILABLE INTERNSHIPS FOR 2023:
Broadway Theatre Management


Theatre Management is a collaboration between the Theatre Manager (House Manager) and the staff in the theatre. Staff includes Ushers, Box Office, Stagehands, Cleaners and Facilities. In addition, the Manager works in partnership with staff from the show, including Company (Show) Managers, Stage Managers, and others. The Theatre Manager is responsible for fulfilling the needs of the show as well as the audience.

Ticketing Operations
Shubert Ticketing and Operations is a division of The Shubert Organization and an official ticket seller for Broadway and off-Broadway shows. We power ticket sales through the Telecharge website and call center, the box office, and online distribution channels. Ticketing supports the organization's software development and infrastructure for sales, communication, and patron management.
Facilities Project Management
Facilities project managers are responsible for planning, executing, and completing building maintenance and restoration projects. Facilities handles all sorts of projects whether they are short-term day-to-day or long-term large-scale. The Facilities Department includes a team of 13 who work with internal maintenance personnel, outside contractors, and qualified professionals to operate, maintain, and restore 17 landmarked Broadway Theatres. Project Managers work both onsite and remotely with computer programs and databases to make sure their projects are always moving forward toward continuous improvement and successful completion.  
Ticketing Technology (Based in Glen Rock, NJ Office)


Shubert Ticketing Technology collaborates with our software development team to enhance our STAR (Shubert Ticketing Accounting and Reporting) system and API Services. We work with box offices, production companies, and secondary markets to determine which enhancements will best serve our industry users. We provide event setup and account support to all of our secondary markets which use our API Services.

Human Resources/Diversity, Equity, and Inclusion


Human Resources is a five-person team that handles one of the most important Shubert assets, its staff. HR is responsible for the training, hiring, benefits enrollments, and employee relations of the over 1000 Shubert employees. Always seeking to support its employees, Shubert's HR department has been building processes towards DEI- diversity equity, and inclusion including creating Employee Resource Groups; spotlighting various holidays and observances from underrepresented and historically marginalized communities; and ensuring our staff is incorporating DEI in all aspects of the work.
PROGRAM HIGHLIGHTS
Six-Week Program

Paid Wage: $18/hr., 20 hrs./week

Weekly Public Transportation

Focused Internship Projects

Tours of Shubert's Theatres

Access to Broadway Shows and Events

New hires must show proof of Covid-19 vaccination, including booster, subject to reasonable accommodation where required by law.
OTHER DETAILS:
Program Dates: Internships span 6 consecutive weeks between July 10-August 18, 2023, for 20hrs per week. Interested applicants should be available during these dates.
Eligibility: Students must be graduating High School 12th grade or a first-year college student at an accredited educational institution in the US. (See application for complete eligibility).
Access:  Though the internship aims to provide specific access to students from traditionally underrepresented communities, the opportunity is open to youth of all races, ethnicities, identities, and backgrounds.
HOW TO APPLY:
You can also download a PDF application here and email your completed application to internship@shubertorg.com.
DEADLINE TO APPLY:
April 7, 2023
QUESTIONS: